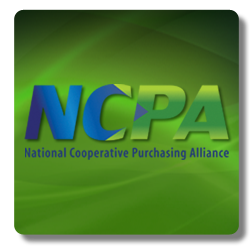 Being selected as an awarded vendor means that we can deliver a convenient contract vehicle to our customers across the nation.
Lawrenceville, GA (PRWEB) February 16, 2012
The National Cooperative Purchasing Alliance (NCPA) announced today that it has awarded a master contract for K-20 schools covering 50 states to educational technology provider Logical Choice Technologies, headquartered in Lawrenceville, Georgia. "We were thrilled to award this contract to Logical Choice. Not only are they the nation's leading provider of Promethean interactive white boards, learner response systems and installation services," said Jonathan Applegate, Director of Operations for NCPA, "but they also supply an extensive range of impressive technology brands for education — such as Xirrus Wi-Fi, SALTO, HP, Panasonic, Sanyo, BenQ, Cables To Go, Audio Enhancement and more — all a perfect fit for educators. We knew that Logical Choice's expertise and experience in rolling out educational technologies into K-12 schools and Higher Education was something that would be very appealing to our customer base."
Logical Choice Technologies offers over 10,000 products to the education marketplace through its national sales force and online webstore. The company's entire catalog of technology products, bundles and services are available nationally to schools on NCPA Bid # NCPA01-05. In addition to the leading brand names the company distributes to the education marketplace, Logical Choice manufactures its own brand of classroom audio systems — AudioGear — and a popular supplemental reading curriculum, Letters alive.
NCPA is a cooperative that works to reduce the cost of goods and services by leveraging the purchasing power of public agencies in all 50 states. NCPA competitively solicits master contracts and awards them based on quality, performance and — most importantly — pricing. Through NCPA, Logical Choice Technologies offers schools an everyday discount on all products across the board, plus free shipping on all orders. In addition, using the contract for purchasing is completely free for schools.
"Purchasing through NCPA makes things such an easy experience," said Kevin Shupenia, Chief Operations Officer for Logical Choice. "We know how much hassle it can be for schools to go through the bid process, so being selected as an awarded vendor means that we can deliver a convenient contract vehicle to our customers across the nation."
Contracting through programs such as NCPA can make the purchasing process much more efficient for buyers seeking the most value for their dollar. NCPA serves as an intermediary between buyers and vendors, soliciting competitive bids on popular lines of educational technology. This ensures that schools are able to obtain exclusive contract pricing and not be saddled with shipping charges. By aggregating demand, contractors like NCPA are often able to obtain pricing that is unavailable through sole bid efforts.
"Contract purchasing completely cuts out the frustration of soliciting bids, which forces schools to keep track of multiple vendor quotes and do all of the comparative shopping themselves," Applegate added. "Going through one of our contract holders eliminates the legwork, because we've already gone through the solicitations and obtained consistently discounted prices for the technology schools need."
Interested parties can view a short 4-minute video to hear NCPA execs address the questions that are asked most often by schools regarding master contracts like NCPA. To learn more about Logical Choice Technologies, visit http://www.logicalchoice.com or visit the Logical Choice webstore at http://www.logicalchoicestore.com. To learn more about NCPA, visit http://www.ncpa.us.
###