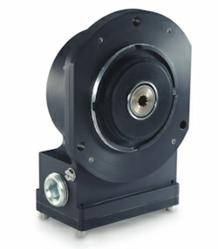 Goleta, CA (PRWEB) February 16, 2012
BEI Sensors has released the industry's first UL and ATEX rated explosion proof hollow shaft encoder, Model HS52. BEI has developed this ultra rugged and space-saving industrial encoder to meet the high standards and certifications required for use in potentially explosive environments. The HS52 is capable of operating directly in Division 1 and Zone 1 environments where ignitable concentrations of flammable gases, vapors or liquids are likely to exist under normal operating conditions. This rugged and reliable encoder does not require an accompanying Intrinsic Safety barrier, which simplifies installation and provides a more streamlined feedback system in explosion proof environments.
Using the explosion proof construction method, this hazardous duty rotary encoder is housed in an enclosure that can withstand and contain an internal explosion of the most volatile gas-to-air mixture. Fitted with a flexible shaft bore design, the HS52 housing can be rigidly mounted, preventing stress to encoder bearings and providing a more secure attachment for the required hazardous area conduit fittings. Additionally, the compact hollow shaft design offers engineers space-saving advantages over traditional shafted encoders. The HS52 hazardous duty encoder is the ideal position sensing solution for use in oil and gas industries, solvent refining operations, spray painting applications, and explosive environments where space is limited and operating conditions are extreme.
________________________________________
About BEI Sensors
BEI Sensors, a brand of Custom Sensors & Technologies, serves the industrial, military/aerospace and transportation markets, providing an extensive product line, engineering expertise and unparalleled product support. BEI Sensors can supply a range of products from standard off-the-shelf products to completely customized solutions for any challenging application. The comprehensive product line includes absolute and incremental encoders, rotary and linear position sensors, potentiometers (wirewound, conductive plastic and hybrid), Hall Effect sensors, panel controls, electronic interface modules, wireless modules, and a variety of product accessories.
http://www.beisensors.com
About Custom Sensors & Technologies:
Custom Sensors & Technologies (CST) is a specialist in sensing, control and motion products. Through its brands, BEI Kimco, BEI Sensors, BEI PSSC, Crouzet, Crydom, Kavlico, Newall and Systron Donner Inertial, CST offers customizable, reliable and efficient components for mission-critical systems in Aerospace & Defense, Transportation, Energy & Infrastructures, Commercial & Industrial OEMs, Medical, Food and Beverage and Building Equipment markets.
Focused on premium value offers and committed to excellence, CST, with 4,700 employees worldwide and sales of $660M US in 2011, is the dependable and adaptable partner for the most demanding customers
http://www.cstsensors.com
###