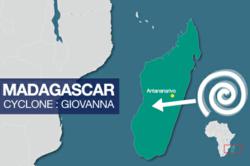 Sarasota, FL (PRWEB) February 15, 2012
ShelterBox has been monitoring Cyclone Giovanna's movement and has mobilized a response team that is expected to arrive on the island on February 17 to assess the need for emergency aid.
The ShelterBox Response Team (SRT) will meet with the national disaster relief agency, the National Bureau of Risk and Disaster Management (BNGRC), to discuss the latest on the ground, as well as logistics for the needs assessment.
This will be ShelterBox's second deployment to Madagascar, an island in the Indian Ocean off the southeast coast of Africa, which is prone to cyclones and tropical storms, especially in the rainy season between February and May.
Giovanna ripped through the eastern towns of Tamatave and Brickaville before drenching the capital Antananarivo about 220 kilometers inland. It continued to hit more than 500 further communities, many of which have still yet to be contacted.
Local authorities say it's too early to provide further figures for casualties but experts are comparing Cyclone Giovanna to one of the worst ones to hit the island. Cyclone Geralda destroyed more than 700,000 acres of crops and left thousands homeless in 1994.
Alf Evans, ShelterBox operations manager said, "Reports indicate few casualties but say that at least three people have been killed. There could be extensive damage to homes and infrastructure particularly around the coastal towns resulting in a need for emergency shelter."
"UK-based SRT volunteers David Webber and Stephen Bramfield are en route to Madagascar to assess the situation from the ground."
Since 2000, ShelterBox has provided shelter, warmth and dignity following more than 170 disasters in 80 countries. ShelterBox instantly responds to earthquake, volcano, flood, hurricane, cyclone, tsunami or conflict by delivering boxes of aid. Each iconic green ShelterBox contains a disaster relief tent for an extended family, stove, blankets and water filtration system, among other tools for survival.
ShelterBox's American affiliate, ShelterBox USA is nationally headquartered in Sarasota, Florida. Individual tax-deductible donations to ShelterBox USA can be made at http://www.shelterboxusa.org or by calling (941) 907-6036.
###