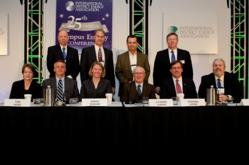 Arlington, VA (PRWEB) February 15, 2012
The International District Energy Association (IDEA) presented its 25th Annual Campus Energy Conference, "Innovations in Clean Energy", in Arlington, VA on February 6-9, 2012. More than 650 registrants attended panels, technical presentations, workshops and an exhibit hall featuring 85 leading companies. District energy systems, as vital energy infrastructure in most major U.S. cities and institutions, were the central focus of the conference, attracting participants from leading colleges and universities operating highly efficient district energy and combined heat and power (CHP) systems.
The Opening Plenary Panel featured discussion on the reliability, efficiency and cost benefits of state-of-the-art district energy and CHP systems. Panelists included the Honorable Stephen Ayers, Architect of the Capitol; Dr. Kathleen Hogan, Deputy Assistant Secretary for Efficiency, EERE, U.S. Department of Energy; Sarah Dunham, Director of Atmospheric Programs at U.S. Environmental Protection Agency (EPA); Tom Hicks, Deputy Assistant Secretary of the Navy for Energy; and senior energy executives from Cornell University, Princeton University, Texas A&M University, Thermal Energy Corporation (TECO) in Houston, Texas and University of North Carolina at Chapel Hill.
Stephen Ayers, Architect of the Capitol, is planning installation of an 18 MW CHP facility at the Capitol Power Plant that provides steam for heating and chilled water for cooling to the US Capitol; Supreme Court; Library of Congress and Senate and House office buildings on Capitol Hill. Ayers emphasized the reliability benefits of district energy and CHP, stating, "Can you image a State of the Union address by the President being cancelled because there was no heat in the House Chamber? There is no room for excuses or failure in the environment in which I work. The Capitol Power Plant has a long track record of highly reliable service and our move to incorporate CHP is intended to augment that reliability."
The panelists noted the significant reliability advantages of district energy and CHP systems during unexpected events and natural disasters. The severe drought in Texas during the summer of 2011 drove electricity prices to reach record levels, but TECO was able to provide electricity and cooling to its customers at the Texas Medical Center at normal rates as a result of their 48 MW CHP and district energy system. TECO CEO Steve Swinson stated, "Because of the heat and the drought, the Texas electrical grid was extremely stressed, from a generation perspective and a transmission perspective. Having CHP allowed us to remain reliable." Tom Nyquist of Princeton University also stressed the reliability benefits of district energy, noting, "There have been times when tropical storms come through and the only lights on in town are on campus. Having CHP and district energy allows us to ride through storms without interruption."
Government recognition of the benefits of district energy and CHP is growing as knowledge and awareness of the technologies spread. On Thursday, February 2, Energy Secretary Steven Chu was in Houston to tour TECO along with Steve Swinson. In recounting the visit, Swinson commented to the IDEA audience, "Secretary Chu really appreciated CHP and understood it," and Kathleen Hogan of the U.S. Department of Energy echoed those sentiments. Dr. Hogan stated, "The Department of Energy has been strongly behind CHP for many years and this support is only getting stronger, as you could hear in the State of the Union address by the President and see from the Secretary's visit to the wonderful facility in Texas." The Department of Energy has established Clean Energy Application Centers (CEACs) to promote and assist in transforming the market for CHP, waste heat recovery, and district energy technologies throughout the United States. IDEA works closely with the CEACs to expand the district energy market and support new projects.
Sarah Dunham, U.S. Environmental Protection Agency, stated that EPA "recognizes the opportunities for CHP and district energy to be cost-effective greenhouse gas reduction technologies and achieve air pollutant reduction goals. We see these technologies as a way to combine and achieve both reliability and environmental performance." EPA manages the CHP Partnership, a voluntary program that encourages the use of CHP to reduce the environmental impact of power generation.
Another conference panel focused on Military Bases, Microgrids and Managing Sustainability and featured Merrill Smith, Office of Electricity Delivery & Energy Reliability, U.S. Department of Energy; Richard Boyette, U.S. Navy NAV/FAC; John Kelly, Perfect Power Institute; Jonathan Powers, U.S. Army Energy Initiatives Task Force; Ted Borer, Princeton University; and Tim Griffin, RMF Engineering. Presentations from the conference are available on the IDEA website.
Reliable energy supplies for its military installations are critical to our nation's security. The Department of Defense has established three central goals for installation (military base) energy: to reduce energy use, enhance energy security and increase use of renewable energy and onsite power generation. Onsite power generation reduces military reliance upon an aging and potentially vulnerable electricity grid and increases preparedness.
The reliability benefits highlighted by campus and governments members of the plenary panel are even more valuable to mission-critical military operations, and district energy and CHP systems support continued critical base operations in the event of electricity supply disruptions. Tom Hicks, Deputy Assistant Secretary of the Navy for Energy, stated that the benefit of district energy and CHP is "really about our combat capability—having a more reliable grid, which CHP gives us, is an enabler of our mission, of our combat capability and preparedness."
The 25th Annual Campus Energy Conference was supported in part by the generous sponsorship of leading companies, including Burns & McDonnell, Chem-Aqua, Jacobs Engineering, Johnson Controls and Solar Turbines.
About IDEA: IDEA serves as a vital information hub for the district energy industry and combined heat and power industries, connecting industry professionals and advancing the technology around the world. With headquarters just outside of Boston, Mass., the 1,500- member IDEA was founded in 1909 and comprises district heating and cooling system executives, managers, engineers, consultants and equipment suppliers from 25 countries. IDEA supports the growth and utilization of district energy as a means to conserve fuel and increase energy efficiency to improve the global environment. For more on IDEA, go to http://www.districtenergy.org.
###