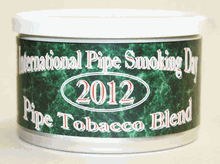 We couldn't call ourselves the world's leader in pipes and pipe tobacco if we didn't participate in and celebrate International Pipe Smoking Day.
Albany, NY (PRWEB) February 16, 2012
PipesandCigars.com, a leading online distributor of pipes, pipe tobacco, cigars, and smoking accessories is preparing to launch their fourth annual celebration of International Pipe Smoking Day on February 20, 2012. The first part of the celebration has already begun with the release of Master Blender Russ Ouellette's limited edition International Pipe Smoking Day 2012 Pipe Tobacco Blend. These limited edition tobacco tins are always very highly sought after, and at the time of this article this year's blend was nearly sold out less than twelve hours after being released for sale. However, this tobacco blend is merely the introduction to the main event, which will take place on February 20th. On that date, PipesandCigars.com will include a special gift bag featuring a variety of pipe tobacco and pipe accessories with every order that includes either a pipe or pipe tobacco. The gift bags are sponsored by various pipe and tobacco manufacturers, and will be included with orders beginning at 12:01am on Feb 20, 2012, and ending when supplies are exhausted or at 11:59pm, whichever comes first.
PipesandCigars.com is known throughout the tobacco industry as a true online tobacconist, rather than specializing in one specific form of tobacco products, they offer everything from their wide selection of pipes and pipe tobacco to the best cigars on the market. Their retail store contains an even wider variety of tobaccos that are not eligible for mail order shipping due to federal regulations on tobacco. However, since the company is recognized as the pipe tobacco industry's low-cost leader on pipes and pipe tobacco, they feel that their International Pipe Smoking Day celebration isn't just a fun promotion, but a real responsibility to their customers.
"International Pipe Smoking Day is one of the most fun and exciting days of the year here." said Robert Gates, PipesandCigars.com's General Manager and better known to the customer base as Bobby G. "We have customers asking about it months in advance, and vendors vying for placement in sponsoring our IPSD goodie bags. We started doing this four years ago without even really telling anyone about it. They just found out when they had some free stuff in their order. Now it's grown so big that our customers look forward to it all year long. Pipe smokers take this day very seriously and they all really do smoke and celebrate the day. We couldn't call ourselves the world's leader in pipes and pipe tobacco if we didn't participate in and celebrate International Pipe Smoking Day as well."
Based on the initial favorable response to 2012's International Pipe Smoking Day Pipe Tobacco, the company is considering adding the blend to the Marquee Series line of the company's own Hearth & Home pipe tobacco brand created by Russ Ouellette. The company is anticipating a huge response to the gift bag promotion on February 20th, and of course is encouraging pipe smokers everywhere to raise their pipes in a toast and join the pipe smoking community in sharing a bowl together.
About PipesandCigars.com: PipesandCigars.com is an industry-leading online tobacconist dedicated to bringing customers the widest selection of cigars, pipes, pipe tobacco and tobacco accessories. The company features premium cigars from brands like Macanudo cigars, Ashton cigars, Montecristo cigars, Padron cigars, Arturo Fuente cigars, Rocky Patel cigars, Acid cigars and many more. They are the low-cost leader in pipe tobacco on brands like GL Pease, Sam Gawith, McClelland, Captian Black, Borkum Riff and many more. They feature thousands of pipes, ranging from inexpensive Corn Cobs and Dr. Grabows all the way to the premium brands like Dunhill, Peterson and other fine hand-carved pipes.
###