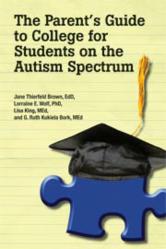 This practical book is an invaluable guide to evaluating college readiness for students on the autism spectrum.
Overland Park, Kansas (PRWEB) February 16, 2012
Sending a son or daughter off to college can be a daunting task, but if the child has an autism spectrum disorder (ASD), the challenge is magnified. AAPC Publishing's new book, The Parent's Guide to College for Students on the Autism Spectrum, walks parents through the college selection process and offers tips for making the transition to college more successful.
Though college students on the autism spectrum are becoming increas­ingly common on U.S. campuses, many school districts, families, educators, and health professionals across the country still struggle with planning for life after high school, deciding whether college is appropriate for their student and determining what kinds of services their student will need.
For students with ASD, college often means that the accommodations and special interventions that supported them in high school are no longer available. Even high-functioning students with excellent academic preparation face difficulties in higher education, primarily related to communication, social skills, and sensory-based issues. The Parent's Guide to College for Students on the Autism Spectrum covers topics important to families, clinicians, teachers and high school specialists including how to select the right campus, how to work with Disability Services staff, what legal protections apply, how to prepare a student to be an effective self-advocate on campus, and what assistance can reasonably be expected from residence hall managers and faculty.
This parent-friendly book, written by parents who are also autism professionals, takes the fear and mystery out of the college experience in a world that sees an increasing number of individuals with autism spectrum disorders attending college.
"Parents need to teach their kids basic skills like shopping, ordering food in restaurants, doing laundry, being on time, personal hygiene, and waking themselves up. These skills should be taught long before the child goes to college. They are part of growing up and necessary for succeeding in college. Still, the biggest obstacle for most autistic students is learning to do well in social situations. For example, I had to learn that it was O.K. to cry if I was frustrated on the job rather than lashing out physically. A high-tech company will not fire you for crying, but they will if you throw things or hit others. The authors of this book present clear strategies for families and students with autism to use starting as early as in middle school and going up to college graduation and on to employment. Hard work, the ability to work with others, and clear expectations will get young people where they want to be."

Temple Grandin, PhD, author of Thinking in Pictures and The Way I See It
"For parents whose adolescent with autism spectrum disorders is considering college, this practical book is an invaluable guide to evaluating college readiness, strengthening key skills, identifying the right match, ensuring the smoothest possible transition, and creating a safety net to maximize the chances of a successful college experience. The authors' sage advice and strategies come from years of personal and professional experience. This is THE book our staff recommends to families and educators!"

Dania Jekel, MSW, executive director, Asperger's Association of New England
About the Authors
Jane Thierfeld Brown, EdD, is director of student services at the University of Connecticut School of Law and co-director of College Autism Spectrum. She has worked in disability services for 33 years and consults with many institutions of higher education, as well as with parents and students on issues related to autism spectrum disorders, and is a frequent speaker at conferences.
Lorraine Wolf, EdD, is the director of disability services at Boston University. She has more than 30 years' experience working with individuals with neurodevelopmental disorders and consults internationally on university accommodations for students with disabilities.
Lisa King, MEd, is co-director of College Autism Spectrum, an educational consulting company that provides training and guidance to colleges regarding best practices for working with students on the autism spectrum.
G. Ruth Kukiela Bork, MEd, is past founder, dean, and director of the Disability Resource Center, Northeastern University in Boston. Her professional involvement in disability affairs and advocacy spans 38 years.
About AAPC
Established in 1999, the mission of AAPC Publishing is to be the first source for practical solutions related to autism spectrum and related disorders. We are an independent publisher, targeting professionals and parents alike. We strive to offer publications at affordable prices so that important resources will not be off limits to anyone with an interest in the autism spectrum.
###