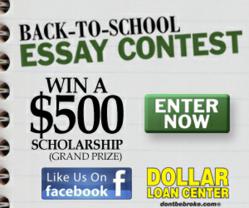 How technology has affected my personal finances.
Las Vegas, NV (PRWEB) February 15, 2012
Dollar Loan Center announces its Back-to-School Scholarship Program, offering high school and college students the chance to win a $500 scholarship for educational expenses at an accredited college or private career school anywhere in the United States.
"In nearly any profession, writing and grammar skills are of great importance," said Chuck Brennan, president/founder and CEO of Dollar Loan Center. "That is especially true in the financial industry. With our Back-to-School Scholarship Program, Dollar Loan Center is providing a chance to further assist in educating our communities." Brennan, who founded Dollar Loan Center in 1998, is also co-author of the book Saving Money: It's in Your Best Interest.
Students can apply for the scholarship on Dollar Loan Center's Facebook page or website by February 28, 2012. The application includes a short essay on "How technology has affected my personal finances." Essays will be judged on grammar, creativity and relevancy. Five finalists will be chosen and the scholarship recipient will be announced on March 5, 2012.
"The Dollar Loan Center Back-to-School Scholarship Program is one more spectacular way we are extending opportunities to those who are truly committed to their education and pursuing it," said Brennan. "Our young people are the leaders of tomorrow and it is up to us to help them make their dreams come true!"
Details and rules for the Dollar Loan Center Back-to-School Scholarship Program can be found on the company's Facebook page and website.
Brennan owns and operates 50 Dollar Loan Center locations throughout Southern Nevada, South Dakota, and Utah. The philanthropic stores maintain a continuous stream of generous giving by supporting a collection of established charities. The company and its employees give to dozens of organizations including Las Vegas' favorite charity, Opportunity Village, and Alice and Sheryl Cooper's Solid Rock Foundation, among many others.
Brennan himself is one of Nevada's most recognized philanthropists, giving more than $200,000 annually to charities across the country. In 2011 alone, Brennan supported Opportunity Village in several campaigns, the 15 Foundation, Henderson Little League, Olive Crest, and dozens of other deserving organizations.
Dollar Loan Center is also the largest provider of short term credit services in South Dakota and Clark County (Las Vegas) Nevada. In 2007, Entrepreneur Magazine listed the company among its "Hot 500" Fastest Growing Businesses and Entrepreneurs." For more information, visit http://www.dontbebroke.com.
###