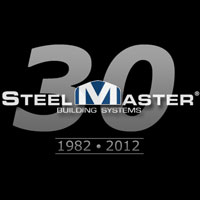 We have a superior product, a staff that is the best in the business and extremely happy clients. It's a 'win-win' situation.
Virginia Beach, VA (PRWEB) February 20, 2012
SteelMaster Buildings will be celebrating its 30-year anniversary in February. SteelMaster is well-known as the leading manufacturer of steel and metal pre-fabricated arched buildings.
SteelMaster has merely scratched the surface of their steel building market and future. According to Inside Business Magazine, SteelMaster is amongst the ranks of "Hampton Roads Roaring 20". This distinguishes SteelMaster as one of the region's fastest growing companies, while making significant contributions to the local economy. SteelMaster is licensed as a small business with a staff of 50 working out of their headquarters in Virginia Beach.
"We are perfectly poised for continued growth", touts Vice President Rob Poellnitz, with all the confidence of a Navy Admiral positioned for battle.
"We share a common vision and we believe in the SteelMaster product", adds Michelle Wickum, Marketing Director. "When you are dealing with a superior product, a staff comprised of the best in the business in their respective fields, with the outcome being extremely happy clients, it's a 'win-win' situation."
This past year alone, SteelMaster has stood out from the crowd in big ways.
SteelMaster was recognized as one of the "12 to Watch" by the United States Senate Productivity and Quality Award program (SPQA) for Virginia. To qualify, SteelMaster had to meet rigorous standards from the U.S. Department of Commerce's Baldrige Criteria for Performance Excellence. As a part of the recognition, they received Criteria for Performance Excellence Training, Mentoring and Scholarship participation in Virginia's SPQA's Discovery Program. In a press statement, Virginia SPQA Board Chair Jo Rohr said, "SteelMaster is on the cusp of major growth".
SteelMaster was awarded the Commonwealth of Virginia's "Compass Award for Excellence in International Trade". This recognition is only given to a Virginia business that has excelled in global trade while positively representing the Commonwealth in the international arena. Recipients must have increased their international profile, promoted the best interests of its employees and surrounding communities, and contributed to the economic health and quality of life of Virginians.
SteelMaster was the winner of an export video promotion contest co-sponsored by the U.S. Small Business Administration and VISA. SteelMaster received a $12,000 award, including cash and travel costs to participate in the awards ceremony, and a Department of Commerce Gold Key matching service.
Further, two SteelMaster custom-designed homes appeared in The Wall Street Journal and the New York Daily News. SteelMaster also completed its first two buildings certified as Leadership in Energy and Environmental Design projects.
SteelMaster's steel and metal pre-engineered buildings are uniquely designed for residential and commercial applications including Garages, Workshops, Carports, Agricultural Storage, Metal Barns, Quonsets, Green Buildings, Airplane Hangars, RV Storage, Roofing Systems, Storage Buildings, Military Buildings, Commercial Warehouses and Industrial Storage. Custom Building applications include Athletic Facilities, Retail Stores, Churches, Bus Stops, Smoke Shacks, Doggie Dorms and even Correctional Facilities.
SteelMaster concepts and designs are limited only by the request and imagination of each individual customer.
SteelMaster buildings are engineered for life and backed by a 30-year warranty from ArcelorMittal Dofasco Steel Mill and provide 100% of usable space, along with ease of construction and low maintenance. Through common ownership, SteelMaster owns the factory where its Steel Buildings are engineered, designed and manufactured. This affords SteelMaster to incorporate and oversee the most stringent quality standards in order to effectively deliver their clients the exact buildings they envisioned.
SteelMaster's 30-year Anniversary marks over 40,000 SteelMaster buildings constructed worldwide, on six continents, and in over 50 countries.
###