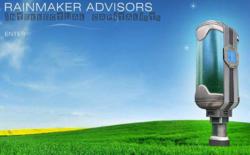 We love to be told it can't be done. Business as usual is profanity to us.
Dallas, TX (PRWEB) February 15, 2012
Rainmaker Advisors, LLC. ("RMKR"), Intellectual Capitalists, announces the appointment of Jay Looney as the new Chief Executive Officer.
Mr. Looney brings to RMKR his experience as a veteran of EDS (now HP), Andersen Consulting (now Accenture) and one of the founding members of Clearview International, LLC. Over the years, he has directed numerous high value outsourcing agreements and large scale system integration projects. This "hands on" experience provided him with an in-depth understanding of real world customer expectations and required operational practices needed to deliver a consistent, quality service. Building and maintaining mutually beneficial and effective business relationships have been a cornerstone throughout his career. He has designed and negotiated several billion dollars of transactions, including information technology and business process outsourcing agreements. He is a frequent speaker on outsourcing practices and IT services management and has authored several papers regarding the same.
Mr. Looney says "RMKR provides out-of-the-box thinking, revolutionary strategies and fresh ideas applied through the skills of seasoned and experienced advisors, practitioners, managers and operators. Business as usual is profanity to us. We are private and tactical. We see treasure and opportunity where others see nothing. Our teams are unflinching in disaster, crisis, or the ordinary. We love problems, dead-ends, and the impossible. We love to be told it can't be done" said CEO Jay Looney. "The innovative thinking at RMKR is exactly what is needed by a sole proprietor, the small business, a non-profit, professionals, or enterprise operations in today's information and knowledge economy."
For more information on RMKR, please visit http://www.rmkradvisors.com
About Rainmaker Advisors, LLC.
RMKR is a boutique advisory services firm located in Dallas, Texas specialized in extracting value from intellectual capital on behalf of its clients throughout the United States, Canada, Europe and Asia. RMKR provides a range of services in the area of mergers & acquisitions, agreement structuring, organizational design & restructuring, cost control techniques, infrastructure, crisis management, financing, and litigation management.
###