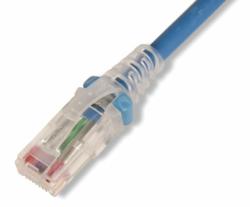 Watertown, CT, USA (PRWEB) February 15, 2012
Siemon, a leading global manufacturer of IT network cabling and infrastructure systems, today announced the next generation of their popular category 6 UTP MC6 patch cord. Featuring new reduced-diameter cable and low-profile, ultra-slim strain relief boot, the new MC6 cords meet or exceed all category 6 standards.
The redesigned MC6 cords are constructed with a new 250MHz-rated 26 AWG stranded cable that reduces cable diameter, improving cord flexibility while still exceeding the standards set forth by ANSI/TIA-568-C.2 and ISO/IEC 11801:2002. To support a broader range of global codes and requirements, this high-performance cable features a dual CM/LS0H (Low Smoke Zero Halogen) rated jacket.
Also featuring an enhanced low-profile boot, the new MC6 cords are side-stackable, supporting ultra high-density patching environments such as network switches and blade servers. The clear boot also provides an integrated "cantilevered" latch protection feature that not only limits snagging when removing cords, but also allows the latch to be operated from further back on the plug. This allows easier installation and removal of the cords in high-density environments.
Additionally, this ultra-slim boot delivers extremely robust cable strain relief, maintaining performance critical bend radius while maximizing flexibility and ensuring excellent cable retention. This robust feature, coupled with Siemon's patented internal cross-pair metallic isolator and 360-degree crimp, maintains cable pair geometry and eliminates deformation, resulting in higher transmission performance.
The new RJ45 cords have also been enhanced with unique color-coding clip feature. Available in a variety of colors, these snap on clips can be added or removed while the plug is inserted or disengaged, allowing greater flexibility in patch field identification and management.
All Siemon MC 6 patch cords are compatible with standards-based RJ45 outlets and meet FCC68.500 and IEC 60603-7 specifications, ensuring reliability and long-term resistance to humidity-based corrosion, extreme temperatures and airborne contaminants. This UL-listed and 100% transmission-tested patch cord is also compatible with both T568A and T568B wiring schemes, which allows it to accommodate all applicable Ethernet applications. Featuring clear boots, the dual CM/LS0H rated cords are available in multiple colors and in standard lengths up to 7.5 meters.
For more information on Siemon's enhanced MC6 patch cords, as well as other Siemon network cabling and connectivity innovations, visit http://www.siemon.com
Follow Siemon on Twitter: http://twitter.com/siemoncabling/
Join Siemon on Facebook: http://www.siemon.com/go/facebook
About Siemon
Established in 1903, Siemon is an industry leader specializing in the manufacture and innovation of high quality, high-performance network cabling solutions. Headquartered in Connecticut, USA, with global offices, manufacturing and service partners throughout the world, Siemon offers the most comprehensive suite of copper (unshielded and shielded twisted-pair) category 5e, category 6 (Class E), category 6A (Class EA) and category 7/7A (Class F/FA), and multimode and singlemode optical fiber cabling systems available. With over 400 patents specific to structured cabling, from patch cords to patch panels, Siemon Labs invests heavily in R&D and development of industry standards, underlining the company's long-term commitment to its customers and the industry.
###