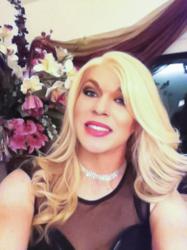 This page was designed to be of help to all of those in need of advice, instruction or consultation with your wigs or hair pieces.
Roslyn Heights, NY (PRWEB) Feb. 15, 2012 (PRWEB) February 17, 2012
Pop Wigs USA, one of the world's leading providers of custom hair replacement and wig solutions, announced today that its web site will feature the blog of Stacie Storm, renowned beauty and hair specialist, who will offer her unique tips on looking your best for the wig wearing community.
Storm has been a hairstylist since 1990. Her specialty is gender transformation; her insights are uniquely targeted to the wig wearing community. Her Pop Wigs USA blog page is designed to "help to all of those in need of advice, instruction or consultation to find wigs or hair pieces, for all types of hair replacement that make them look on the outside the way they feel on the inside," Stacie says.
Stacie is available for consultations and to offer help in designing a wig custom made to suit the exact requirements of Pop Wig USA customers. Stacie will walk customers through taking measurements to be sure that they get an exact fit, choose the right color to best compliment their skin tone and offer direction in styling and wearing the final wig.
"Pop Wigs own Stacie Storm has been literally taking this world by storm," says Dean "Pop" Riskin, CEO of Pop Wigs USA. "She has single handedly opened the door for so many transgender people out there. They know that at Pop Wigs USA they can get great advice and be treated as special. We can custom design the perfect wig for anyone." To introduce Stacie to Pop Wigs USA, Pop will be giving away a free wig and custom design consultation with Stacie to one lucky subscriber of Stacies blog, check the blog or the Pop Wigs USA Facebook page
Pop Wigs USA wigs are made of the finest materials and are handcrafted to look and feel like your own hair. They will make you look and feel great.
About Pop Wigs USA
Founded in 1972 as Manny Roberts H.R.,Pop Wigs is one of the world's leading providers of custom hair wigs and hair replacement solutions. The company has designed custom hairpieces for Atlanta "Housewife" Kim Zolciak, young comedian, actress and alopecian Georgia Van Cuylenburg and others. It designs custom-made hair replacements for every reason, including male and female pattern baldness, alopecia, trichotillomania, chemotherapy, radiation, transgender transformations, theater, costume, religious beliefs, fashion, and fun, and it still serves many of its original clients from 1972. For more information, visit http://www.popwigsusa.com/.
# # #