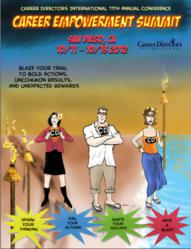 Leaders in the resume and career services world trust CDI to identify emerging challenges and opportunities, and to provide them with precisely the programming they need to not just get by in the year to come but to flourish.
Melbourne, Florida (PRWEB) February 21, 2012
Offered annually each October and now entering its 11th year, the Global Career Empowerment Summit offered by Career Directors International (CDI) has built a reputation for delivering profound results to the industry's leading resume writers and career coaches who participate. "Fabulous", "Life-changing", "Remarkable", "Value-Packed" and "Not-to-be-Missed" are what participants can be heard and quoted saying both during and after their experience with the energizing, fun, and empowering 3-day Summit program.
The CDI Summit is a true milestone in the careers and resume industry because of its unique approach to planning programs that are focused on forecasting emerging trends and targeting the deepest challenges that practitioners face. The goal of the annual Summit is quite simply to position practitioners to break through both known and unknown barriers presented by clients as well as an ever-changing digital landscape for job search, career management, and entrepreneurial business success.
CDI President, Laura DeCarlo states, "Leaders in the resume and career services world trust CDI to identify emerging challenges and opportunities, and to provide them with precisely the programming they need to not just get by in the year to come but to flourish. Our strategic approach allows us to present Master-level programming at a minimum of one to two years ahead of other organizations who serve our population."
The 2012 Summit is no different with its exciting and bold focus on entrepreneurial success for resume writers and career coaches. The theme this year: Blaze Your Trail to Bold Actions, Uncommon Results, and Unexpected Rewards. Spark Your Thinking! Fuel Your Actions! Ignite Your Success! Have a Blast!
Despite its focus, those not interested in self-employment or business development will still experience a wealth of value from every session. The 2012 Program is like a 2-for-1 with sessions that have been carefully formulated to result in a positive impact for both practitioners and their clients! Specifically:

Coaching and Business sessions offer techniques that practitioners can use to take their clients AND themselves to the top in productivity and performance.
Resume Writing and Branding sessions that have been expanded to encompass strategies practitioners can use in writing their own powerful self-marketing copy as well as that of their clients.
All sessions combine to create a value-added solution to position practitioners as sought-after experts who are ahead of their competition. Whether that means building clientele or impressing the boss, it's a win.
CDI's Summit offers a vibrant three-day program with many exciting opportunities beyond the promise of top-notch educational programming:
Special opening beachfront reception complete with fire knife dancers.
Fun boat excursion on the Bahia Belle, a turn of the century Mississippi-style sternwheeler, on Mission Bay.
High-energy vendor fair and networking event to provide attendees the chance to learn about valuable products, programs, and services.
Exciting tools and highest quality materials to help cement the training and networking before, during, and after the Summit.
Lunch and Learn session for small group interaction and more in-depth conversations with key presenters.
Intimate setting where attendees are immersed and engaged with their colleagues and fellow leaders for the greatest impact possible.
Surprises and gifts – each year CDI has secured door prizes for all attendees valued at $10 to $2500. Plus, last year Summit attendees were honored by keynote Martin Yate with a copy of his newest Knock 'em Dead book and in 2010 keynote Joyce Lain Kennedy provided copies of her Cover Letters for Dummies book for all in attendance. What will 2012 bring?
CDI hosts a YouTube channel where a broad selection of Summit presenter tips and attendee testimonial videos can be found from the 2009-2011 Summits. Visit CDI's Summit pages to learn more about the 2012 Global Career Empowerment Summit.
About CDI: Career Directors International – http://www.careerdirectors.com
CDI is a global professional association that is committed to ensuring that career and resume professionals can grow and thrive in a rich, vibrant, exciting, safe, and nurturing environment. CDI is focused on championing the industry's cause for credibility and visibility; fostering exceptional success in every generation of career and resume professionals; and cultivating the career superhero that exists within each one of us.
###