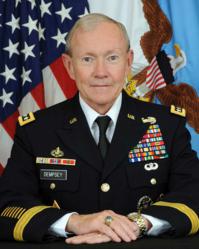 Miami, Florida (PRWEB) February 24, 2012
General Martin E. Dempsey, Chairman of the Joint Chiefs of Staff, is slated to be the keynote speaker at NDIA's 28th Annual Logistics Conference in Miami, FL on Monday, March 26th at 5 p.m.
NDIA's Annual Logistics Conference, which has become the premier national-level forum for exchanging ideas and sharing insights into improving support for our nation's warfighters across the spectrum of military operations, brings together senior logistics policy officials, senior-level logistics practitioners, and high-caliber government and industry participants. In addition, this year's expanded exhibit forum will highlight cutting-edge technologies being developed to support our warfighters in an efficient, interoperable manner.
In this unique logistics conference scheduled for March 26-29 at the Hyatt Regency Miami, panelists will discuss key topics in a casual setting that encourages audience participation and interaction. Another key feature of the conference is the Joint Logistics Fireside Chat, which will bring high-ranking officials from the Air Force, Army, Navy, and Marines together to discuss the trade-offs needed to meet logistics requirements during an era of limited resources, and the impact of those trade-offs on national security.
Keynote Speakers (in order of appearance):

GEN Martin E. Dempsey, USA, Chairman, JCS (5:00 pm, Monday, March 26)
Hon Alan Estevez, ASD/L&MR
Mr. Walt Havenstein, CEO, SAIC
Lt Gen Brooks Bash, USAF, J4/JCS
Mr. Michael Bayer, President & CEO, Dumbarton Strategies
Gen Jim Jones, USMC (Ret), Former National Security Advisor to the President
Dr. Daniel Goure, Vice President, Lexington Institute
LTG Kathleen Gainey, USA, Deputy Commander, TRANSCOM
Hon Jacques Gansler, University of Maryland School of Public Affairs
Panel Topics:

JCS J4-Led Panel "Operational Needs"
Joint Logistics Fireside Chat "Balancing Readiness and Resources"
The View from the Hill
Industry Leadership Fireside Chat
Realizing Efficiencies through PBL
Realizing Readiness Across the Maintenance Value Chain
End to End Supply Chain
Agenda and registration information can be found at http://www.ndia.org/meetings/2730
About NDIA:
The National Defense Industrial Association (NDIA) is America's leading Defense Industry association promoting national security. NDIA provides a legal and ethical forum for the exchange of information between Industry and Government on National Security issues. NDIA members foster the development of the most innovative and superior equipment, training and support for warfighters and first responders through our divisions, local chapters, affiliated associations and events.
###