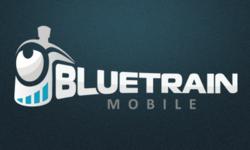 When it comes to the mobile website and mobile marketing space, choosing to work with Bluetrain was a no-brainer. - Allen Bonde, CMO of The Pulse Network
Cambridge, MA (PRWEB) February 17, 2012
Bluetrain Mobile – the leading provider of mobile websites for professional marketers and agencies – is proud to announce it is the Official Mobile Sponsor of the 2012 Inbound Marketing Summit series.
"We are thrilled to have Bluetrain Mobile as Inbound Marketing Summit's Official Mobile Sponsor," says Allen Bonde, the Chief Marketing Officer of The Pulse Network. Bonde notes, "As we continue to expand the focus and add more interactive features to the IMS experience, it's critical that we find the right partners. When it comes to the mobile website and mobile marketing space, choosing to work with Bluetrain was a no-brainer."
Bluetrain's Conductor and CEO, Steffan Berelowitz, adds, "We're proud to be a part of the leading event for digital marketers. We understand that any marketer who is thinking about inbound marketing is aware of the importance of mobile. The Inbound Marketing Summit is where marketers converge, and sponsoring the event is a clear statement that the mobile channel is a necessary part of every inbound marketer's tool set."
The Inbound Marketing Summit will host three events in 2012: New York City on February 28 & 29, San Francisco on June 12 & 13, and Boston on October 23, 24 & 25.
About Bluetrain Mobile
Bluetrain Mobile, based in Cambridge, MA, is a mobile website software platform provider. The company's software enables its customers to create professional and compelling mobile websites. Bluetrain Mobile allows companies to either build a mobile site themselves, or take advantage of Bluetrain's quick-start service that gets businesses up and running quickly with a professional mobile website. To learn more, visit http://www.bluetrainmobile.com.
About Inbound Marketing Summit
The Inbound Marketing Summit is a multi-media series of events produced by The Pulse Network. With a unique mix of inspirational speakers and authors, cutting edge content, and real-world case studies from innovative brands and organizations, Inbound Marketing Summit (IMS) is where smart marketing and media professionals come together to meet, hear from the experts, and network with their peers. Learn more at http://www.inboundmarketingsummit.com.
About The Pulse Network
The Pulse Network provides digital media and event solutions along with an innovative content automation platform for delivering engaging programming, campaigns, and video communities. A pioneer in Enterprise Social TV, The Pulse has become the partner of choice for numerous B2B and consumer brands. Learn more at http://www.ThePulseNetwork.com.
###