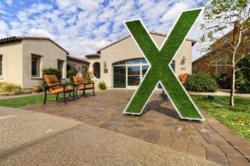 Through a revolutionary blend of energy efficient features and solar power, Shea Homes is the first builder to offer a home that produces as much electricity as it uses as their new, national standard.
Scottsdale, AZ (PRWEB) February 16, 2012
Shea Homes, the developer of nationally-acclaimed Trilogy resort communities designed especially for baby boomers, today announces a new benchmark of carefree living with SheaXero, The No Electric Bill Home. Through a revolutionary blend of energy efficient features and solar power, Shea Homes is the first builder to offer a home that produces as much electricity as it uses as their new, national standard. Available starting February 18th, SheaXero combines groundbreaking energy performance with the award winning, livable, and stylish designs that Shea's Active Lifestyle and Trilogy communities are renowned for. These homes are also very affordably priced, making them available to more buyers than ever before.
"The big news with SheaXero is the zero dollars homeowners pay for electricity each month," said Rick Andreen, president of Shea Homes Active Lifestyle Communities. "We know how important it is for our customers to save money. Depending on where the home is located, owners can save thousands of dollars per year. But it's not just about the substantial savings, it's the peace of mind our customers enjoy by not worrying about escalating energy costs. They can say goodbye to rate increases while safeguarding the environment for the next generation."
How does a SheaXero home achieve "net-zero electric," generating as much electricity as it consumes? First, a high-powered solar power system is standard on every SheaXero home, generating clean, renewable energy that saves money and offsets electricity consumption. The solar is provided through a unique partnership Shea has created with SolarCity®, a national leader in clean energy services and America's #1 solar integrator for homes and businesses. Added to that is a suite of 11 energy-saving features including:
o Energy-Efficient Trane® HVAC System: Optimizes heating and cooling.
o Jenn-Air® Energy Star® Appliances: Use 40% less energy than required by federal standards.
o Dual-Pane, Low-E Vinyl Windows: Let visible light in while minimizing heat transmission, improving comfort.
o Blown-in Recycled Cellulose Insulation: Creates a thermal blanket of protection.
o Solar Power System: Provided through a unique partnership with SolarCity, this system delivers clean, renewable electricity directly to the home during the day and offsets power used at night, which offsets energy costs and increases the home's value.
o Additional Energy-Wise Features: Sealed ducts, draft reductive construction, digital programmable thermostats, CFL bulbs, insulated garage doors, and occupancy sensor technology further help to conserve energy.
In addition, SheaXero homes are eco-friendly and well equipped to reduce the burden on other natural resources. From low flow Delta® faucets and showerheads to framing with certified wood from sustainable forests, the introduction of SheaXero homes is yet another milestone in Shea Home's long-standing commitment to conservation.
Home design is not sacrificed to achieve this ground breaking energy performance. Livability remains paramount for the award-winning builder, with abundant natural light, open layouts, ergonomic vanity countertops and Five Sided Architecture™ to make each home's exterior unique.
Since 2007, Shea Homes has built 3,000 Green Certified homes, surpassing the stringent industry benchmarks for green construction, resource conservation and energy efficiency. To date, Shea Green Certified™ homes have saved homeowners a collective $7,000,000 in energy costs, 65,000,000 kilowatt hours of electricity and abated 96,000,000 pounds of carbon dioxide, the equivalent of taking 6,000 cars off the road, or restoring 350 acres of rainforest.
SheaXero is available on virtually all plans, elevations and home sites and will launch to buyers in all 10 Trilogy and Shea Homes Active Lifestyle® communities across the country beginning February 18, 2012. In Florida, utility company restrictions limit the amount a home can offset electricity usage to 90%, not 100%. SheaXero homes in Florida will offset the maximum allowable usage. For more information about SheaXero homes, including SheaXero Studio locations and more, visit http://www.SheaXero.com.
About Shea Homes Active Lifestyle Communities
Trilogy communities are high-end retirement resort communities offering a new choice in living to those looking for an exciting lifestyle that revolves around wellness, exploration, continued learning and close personal connections. Architecturally superior product design and amenities reflect the changing needs of the baby boom generation, including business services, world-class clubs, state-of-the-art fitness facilities and a diverse range of recreation and education opportunities. Trilogy is committed to addressing boomers' growing concern about the environment and energy usage, and now offers SheaXero new homes for sale across its portfolio, delivering substantial energy savings to home owners while significantly reducing each home's carbon footprint. More information about 55+ communities at Trilogy is available by visiting http://www.TrilogyLife.com or calling (800) 685-6494.
Homeowners are also members of the resort-style clubs at each community, where they enjoy activities such as wine tasting, working out in state-of-the-art athletic clubs, swimming, artistic classes, cooking classes in professional demonstration kitchens and championship golf and tennis. Members also benefit from delicious on-site dining with signature Good Life Cuisine™, connecting with the world at internet cafes and relaxing in full-service day spas, all amongst people who share a spirit of fun and exploration during this exciting stage of life.
About Shea Homes
Shea Homes is the oldest and largest private homebuilder in the nation. Since its founding in 1968, Shea Homes has closed in excess of 86,000 homes. Shea Homes builds homes that deliver quality craftsmanship and design that best fit varied lifestyles and budgets. Over the past several years, Shea Homes has been recognized as a leader in customer satisfaction with a reputation for quality, design and service. For more about Shea Homes and its communities, visit http://www.sheahomes.com.
About SolarCity
SolarCity® — a national leader in clean energy services—was founded with the mission to help homeowners, business and government organizations adopt clean power, protect themselves from rising gas and electricity costs and protect their environment from polluting power sources. The company's service options can make it possible for customers to switch to clean energy for less money than they currently pay for electricity. Additional information about SolarCity is available on the Web at http://www.solarcity.com.
.
# # #