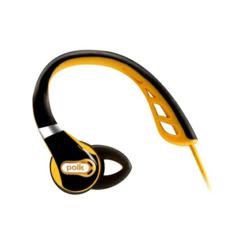 Polk Audio is a name that has resonated with music listeners for many years.
South Hackensack, NJ (PRWEB) February 16, 2012
Headphones.com, a leading online retailer of headphones has recently teamed up with Polk Audio for a sweepstakes available on the popular social media website, Facebook.
By entering this Facebook promotion, contestants have the ability to win prizes including 3 models of Polk Audio's new UltraFit headphone line. Drawing held on 2/29/2012.
"Polk Audio is a name that has resonated with music listeners for many years and I, myself have had Polk audio components in both my home and my car," said Brian Gluck, Headphones.com General Manager. "Polk's progression to portable audio was a logical next step for them, and by focusing on sports-type headphones, they have found a solid niche for their solid products."
The Polk Audio UltraFit line consist of 4 models, including the UltraFit 500 ($49.95), UltraFit 1000 ($69.95), UltraFit 2000 ($69.95) & UltraFit 3000 ($99.95). The entire line can be viewed at Headphones.com's Polk Audio headphone page.
Details on the Facebook promotion can be found on Headphones.com's page here: https://www.facebook.com/HeadphonesCom?sk=app_315409461827956
About Headphones.com
Headphones.com is part of the AlltecStores network. The AlltecStores network consists of several specialty, e-tail websites focusing on audio-visual and technology products. It's main website, AlltecStores.com is parent to several others e-commerce sites, including Headphones.com, ProjectorScreenStore.com, AllCartStore.com, PodiumAndLecternStore.com, AllWhiteboards.com, ProjectorBulbsandLamps.com and more. Manufacturers interested in having their products on Headphones.com should contact pr(at)headphones(dot)com. For more information visit http://www.headphones.com.
###