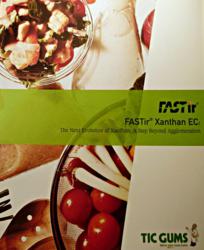 White Marsh, MD (PRWEB) February 17, 2012
The next generation of Xanthan and a step beyond agglomeration…
TIC Gums Introduces Brochure on FASTir® Xanthan EC
TIC Gums is introducing a new brochure on its FASTir Xanthan EC product line. The new brochure is available for immediate download at http://web.ticgums.com/fastir-xanthan/.
FASTir Xanthan EC is a high quality alternative for the food manufacturing industry when other sources of Xanthan are priced high, in short supply, or both. Among the benefits of FASTir Xanthan EC to end users is a steady and predictable supply chain. Fewer interruptions mean more time processing and less waiting for raw materials.
Invented for the stabilization of food products like salad dressings, sauces, dips, soups, and beverages, FASTir Xanthan EC offers high dispersibility, quick hydration, and consistent quality. FASTir Xanthan EC is made with a patent pending technology, available only from TIC Gums.
There are other benefits, as FASTir Xanthan EC is more than an improved version of agglomerated xanthan, but an evolutionary jump in the way Xanthan is made and used. These benefits include: more consistent quality, fewer reworks, reduced batch times, all without any capital investments.
Like traditional Xanthan gum, FASTir Xanthan EC controls the structure of water within food products. The molecular construction of FASTir Xanthan EC allows formulators to manage and manipulate the texture of viscous liquids. Managing moisture in food is important to delivering the right texture, quality, and shelf stability of these products. FASTir Xanthan EC allows all this at a competitive price.
About TIC Gums
TIC Gums is a global leader in advanced texture and stabilization solutions for the food industry. Food and beverage companies rely on TIC Gums to improve the texture, stability, consistency, nutritional profile, and shelf appeal of their products. Legendary customer service, high quality standards, and the unrivaled knowledge of our Gum Gurus® has made TIC Gums the industry leader for more than 100 years.
###