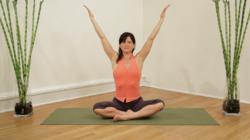 Our goal at Thriving Yoga is to help people with chronic disease experience the healing benefits of yoga with an affordable and accessible practice.
New York, NY (PRWEB) February 23, 2012
While searching for holistic ways of supplementing traditional medicine to help her mother in her 23-year battle with metastasized cancer, Thriving Yoga founder Kate Lubenesky uncovered multiple medical studies highlighting the significant health benefits of yoga for patients with chronic illness. Studies by major medical institutions linked a regular yoga practice for cancer patients with lowered stress, better sleep, and pain reduction*. In addition to helping cancer patients, studies also show that yogic practices promote and improve respiratory and cardiovascular function, help lower blood pressure and cholesterol, reduce stress, anxiety, and enhance overall well-being and quality of life.* The American Heart Association website states: "Yoga can be used to improve heart health and help to lower blood pressure, increase lung capacity, improve respiratory function and heart rate, and boost circulation."**
Inspired by Priscilla's brave battle, Kate founded Thriving Yoga in 2007. "I wanted to find a way to ease my mother's pain and discomfort," said Kate. "The mind/body connection is so important. I wanted to bring the benefits of yoga to my mother, who lived in rural Pennsylvania and did not have access to a yoga studio. I wanted her to be able to practice in the comfort of her home, any time she felt able. However, I could not find a DVD that was tailored to the specific needs and restrictions of breast cancer patients." An avid yogi for more than twenty years, Kate teamed with yoga instructor Denise Hopkins to create the DVD "Yoga for Breast Cancer" as a Mother's Day present. Thus, Thriving Yoga was born.
Based on the success of the initial DVD, Kate was inspired to broaden the message. "I saw how yoga helped my mom. She was more relaxed and more comfortable. Our goal at Thriving Yoga is to help people with chronic disease experience the healing benefits of yoga with an affordable and accessible practice."
This month, Thriving Yoga released "Healing Yoga for Your Heart" and "Healing Yoga for Cancer." Both DVDs utilize carefully selected poses to provide maximum healing benefits and comfort to the areas of the body that need it most. "A consistent yoga practice will help to improve circulation and calm the mind and the body. Doing yoga will help create a balance between your breathe, your heart rate, and your blood press pressure," said Denise Hopkins.
According to Centers for Disease Control and Prevention, heart disease and cancer are the top two leading causes of death among men and women in the US every year. And with the spiraling costs of health care, people are seeking cost-effective and holistic ways to control disease and improve their quality of life. Many are turning to yoga. An estimated 18 million Americans are experiencing the health benefits from regular yoga practice. Both DVDs are available through Amazon and http://www.yogaforyourhealing.com.
Thriving Yoga's mission is to provide affordable, accessible, and quality yoga practices to anyone who desires to experience the healing benefits of yoga for their own personal journey. The company donates more than 50% of the DVD's produced to cancer centers, wellness programs, support groups and survivorship groups. The company also offers DVDs at a minimal cost for fundraising activities.
To learn more about the benefits of yoga on heart health, cancer, and chronic illness, please visit http://www.yogaforyourhealing.com. For more information on Thriving Yoga's donation and fundraising programs, please contact info(at)yogaforyourhealing(dot)com.
Contact:
Jennifer Conlan
Jennifer(at)yogaforyourhealing(dot)com
508-294-6231
*Departments of Psychiatry and Behavioral Science; Duke University Medical Center. Yoga for Women with Metastatic Breast Cancer; Results from a Pilot Study. In: Journal of Pain and Symptom Management (cited March 2007).
Department of Internal Medicine, Wake Forest University School of Medicine. Restorative yoga for women with breast cancer: findings from a randomized pilot study. In: Psycho-Oncology (cited April 2009).
Community and Preventive Medicine, University of Rochester Medical Center. Yoga for Cancer Survivors. In: American Society of Clinical Oncology (cited June 2010).
** http://www.heart.org/HEARTORG/GettingHealthy/PhysicalActivity/Yoga-and-Heart-Health_UCM_434966_Article.jsp#.TxxTnWCDrKw
###