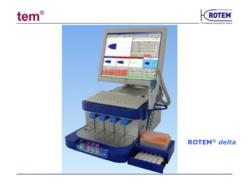 "With the new ROTEM® system, surgical teams don't have to wait for traditional laboratory coagulation tests which can take 30 minutes or more," says Ken West, president of TEM Systems, Inc.
Research Triangle Park, N.C. (PRWEB) February 21, 2012
ROTEM® delta whole blood analyzer rapidly evaluates coagulation status, providing important clinical information to help save lives.
TEM Systems, Inc., announces that 20 additional medical centers within the U.S. have acquired the ROTEM® whole blood hemostasis analyzer, an innovative and robust platform to monitor and analyze the coagulation state of a blood sample in order to assist in the assessment of patient clinical hemostasis conditions. The ROTEM results, within 10 minutes, and in conjunction with other tests assist the clinician better manage dangerous surgical and trauma bleeding. It has been proven to reduce the need—and inherent risks—of blood transfusions while assisting with the selection of the most appropriate blood product required.
"With the new ROTEM® system, surgical teams don't have to wait for traditional laboratory coagulation tests which can take 30 minutes or more," says Ken West, president of TEM Systems, Inc. "Having quick, accurate information in surgery is important to major hospitals because it can help patient outcomes and lower overall health care costs."
Hemostasis is a highly complex interaction of blood proteins and biochemical signals that maintains the balance between bleeding and blood clotting. In patients undergoing surgery, organ donation, or suffering from severe trauma, this balance is very delicate and prone to failure. While the end result is the same—a life threatening loss of blood—no two bleeding events are exactly the same. The blood chemistry of hemorrhage varies from patient to patient, yet the most common solution is the standard blood transfusion protocol.
While transfusion has saved untold lives by quickly restoring blood volume, maintaining a haemoglobin concentration and ensuring oxygen delivery, it does come with some risks and is completely dependent upon blood donation drives.
However, the technology exists to quickly, essentially in real-time, determine the potential cause(s) of the bleed and provide important clinical information for making the most appropriate treatment selection of blood products as required for the individual patient.
The TEM Systems ROTEM® analyzer was cleared by the U.S. Food and Drug Administration (FDA) in the fall of 2010 and provides key coagulation information within 10 minutes for patients undergoing cardiovascular, trauma and liver transplant procedures. The unique and reliable system with its five pre-packaged assays (in-tem®, ex-tem®, hep-tem®, fib-tem® and ap-tem®) has been used at 1,600 sites in more than 50 countries since it was first introduced in 2003.
The ROTEM® Hemostasis analyzer in association with other diagnostic tests provides surgical teams the complete picture of a patient's hemostasis condition and empowers them to provide an evidence-based and individualized solution to the specific patient bleed, rather than falling back on the standard transfusion protocol. The data provided by ROTEM has been shown to save lives(1) and reduce the need for donated blood products by as much as 30 percent (2).
With the additional 20 new installations of the ROTEM® hemostasis analyzer, patients in Los Angeles, Chicago, Orlando, St Louis and New York have access to a critical care tool that reduces their need for blood transfusions and may even save their lives.
About Hemostasis
Whole blood analysis provides results faster and more specific coagulation information than provided from the classical coagulation tests e.g., PT, Aptt or INR on hemostasis. It can help the surgical and trauma teams decide if there is a need for a transfusion and then provide information that suggests which blood products are most appropriate in conjunction with other laboratory tests and clinical impression. This better bleeding management approach can reduce unnecessary blood transfusions and lower the risk of infection or complications associated with those transfusions. With more detailed coagulation information at the providers disposal, it follows that patient outcomes should improve and hospital expenses related to blood products should decrease as seen in numerous studies.
The ROTEM® analyzer is the world's standard in thromboelastometry and has been the subject of 500 publications including recent papers in Transfusion, Anesthesiology, Critical Care, Journal of Cardiovascular Surgery and a dozen other leading journals.
About ROTEM® / TEM Systems, Inc.
ROTEM® delta is marketed by TEM Systems, Inc., the US subsidiary of TEM Innovations GmbH, the developer and manufacturer of the ROTEM® hemostasis analyzer. The system is capable of providing surgeons with critical measures of hemostasis within minutes, including speed of fibrin formation, influence of clotting factors and anti-coagulants; the kinetics of clot formation and influence of platelet and fibrinogen levels; and clot firmness. For more background or to reach your Regional Sales consultant, contact TEM systems in Durham, NC (919-941-7777) or visit http://www.roteminc.com
1.) Active, Personalized and Balanced Coagulation Management Saves Lives in Patients with Massive Bleeding. Ganter, M.T., Spahn, D.R., University of Zurich, Switzerland, Anesthesiology 2010, 113:5
2.) Reduction of blood transfusion rate by point-of-care coagulation management in liver transplantation, visceral and cardiac surgery. Goerlinger, K., International Forum on Quality and Safety in Healthcare, Berlin. Mar. 2009.
Further information:
Ken West
Phone: 919-941-7777, x108
ken(dot)west(at)roteminc(dot)com
###