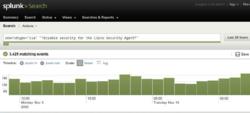 (PRWEB) February 16, 2012
Unified Development, Inc. (Unidev) today announced a technology and marketing partnership with Splunk Inc., developers of a sophisticated machine data tool. Through this partnership, experienced Unidev developers will provide technical integration services for new and upcoming Splunk® customers.
The Splunk software allows users to quickly index and harness complex, unstructured machine data generated by web servers, applications, networks, and other technical components. With Splunk, organizations can monitor, visualize, and act on real-time and historical data through customizable dashboards. In order to integrate systems data into Splunk software for customers in the St. Louis and Las Vegas areas, Splunk turned to Unidev.
"The experienced senior developers at Unidev are well-suited to provide on-site and in-person integrations of the Splunk technology," said John Herzog of Splunk Inc., "We're excited to have a partner like Unidev who is able to demonstrate and implement the power of Splunk to current clients and future customers."
Systems integrated with Splunk experience reduced website downtime, faster resolution of IT issues, identification of system abuse issues, and access to real-time and trending data.
With a 20-year history developing and integrating sophisticated systems, the team at Unidev brings extensive systems knowledge to this partnership. Members of the Unidev development team have received in-person and online training of the Splunk technology, providing them with detailed knowledge of Splunk's capabilities. Unidev is certified in the use, administration, architecture and deployment of Splunk software.
Splunk currently serves over 3,300 licensed customers, including many Fortune 100 firms and government agencies. Unidev is eager to leverage its marketing and technological assets to further grow this user base.
"Partnering with Splunk is a great opportunity for the Unidev team," said Steve Thomas, Vice President of Unidev, "Our developers enjoy working with powerful and sophisticated tools like this. We can't wait to bring it to other organizations."
Splunk offers free trials of its software on its website. For more information about Splunk Integration or other software development and technology projects, please contact Unidev at http://www.unidev.com.
About Unidev®
Unified Development, Inc. (Unidev) is a diversified IT company focused on the application of technology to business. Specializing in custom software development and mobile development, Unidev creates proven, reliable and cost-effective solutions for our clients. With offices in both St. Louis and Las Vegas, Unidev provides productivity applications, custom software development and technology consulting services to both business and government. For more information on Unidev, please visit http://www.unidev.com, or call (636) 458-7772.
About Splunk®
Splunk® Inc. provides the engine for machine data™. Splunk software collects, indexes and harnesses the massive machine data continuously generated by the websites, applications, servers, networks and mobile devices that power business. Splunk software enables organizations to monitor, search, analyze, visualize and act on massive streams of real-time and historical machine data. More than 3,300 enterprises, universities, government agencies and service providers in more than 75 countries use Splunk Enterprise to gain operational intelligence that deepens business understanding, improves service and uptime, reduces cost and mitigates cyber-security risk. To learn more please visit http://www.splunk.com/company.
###