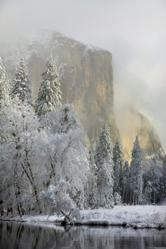 Oakhurst, CA (PRWEB) February 15, 2012
Many have been wondering where winter had gone to, but it's finally shown its face in the Yosemite and Sierra Nevada region.
Snow fell as low as nearly 2000 feet in Madera County, known as California's Gateway to Yosemite. At the Yosemite Sierra Visitor Center in Oakhurst, a few inches coated the grounds and the building, offering a glimpse of the recreation opportunities that await President's Day Weekend travelers.
"A lot of people have been coming out because the weather has been so nice, but many others have been waiting for this snow," said Jarrod Lyman with the visitors bureau. "They've wanted to hit the slopes up at Badger Pass, or go snowmobiling in the Sierra National Forest. Now they can," he said.
The snow came at a perfect time as many people will be enjoying a three-day weekend thanks to President's Day, which is observed Monday, Feb. 15 this year. Snow play areas near Yosemite and the Sierra National Forest around Bass Lake make for perfect trips for families looking to get their winter fill.
"It's absolutely beautiful this time of year, and there aren't as many people during the winter. It's a great time to visit Yosemite and the gateway communities," Lyman said.
Anyone that is currently in the snow and looking for respite has options here as well.
"Our valley communities of Madera and Chowchilla make the perfect retreat for those looking to get out of the snow. They can explore the Madera Wine trail, visit the Fossil Discovery Center in Chowchilla and enjoy some amazing restaurants specializing in local ingredients ."
Many lodging properties, restaurants and more are offering various deals and other travel incentives. Visit http://www.Yosemitethisyear.com then click the "specials" link for discounts.
Jarrod Lyman
Director of Media
Yosemite Sierra Visitors Bureau
(559) 683-4636
###