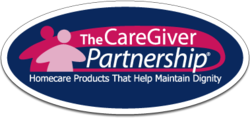 Ways to live with vision problems and preventing falls are ongoing initiatives for us.
Neenah, Wis. (PRWEB) February 16, 2012
February is Low Vision Awareness Month, sponsored by Prevent Blindness America, a volunteer eye health and safety organization dedicated to fighting blindness and saving sight. Coping with low vision may include home design modifications, the use of technology and learning alternative ways to perform familiar tasks, says The CareGiver Partnership Co-Founder Lynn Wilson.
"The CareGiver Partnership is dedicated to helping seniors maintain dignity and remain safely in their homes, so ways to live with vision problems and preventing falls are ongoing initiatives for us," says Wilson. "Because a key factor to a successful aging-in-place arrangement is having a support network, we've stocked our online library with resources designed to help seniors and caregivers."
Wilson says the following four areas are considerations when living with low vision:
Home design: A home designed for someone with low vision includes bright lighting, visual contrast between floors and walls, nonslip flooring, levered faucets, easy-to-grab cabinet hardware, and safety rails, especially in the bathroom.
Technology: An amplified phone with large buttons and talking caller ID, and a monitoring device such as the Guardian Alert 24/7 remote access to 911, provide peace of mind to those with low vision and their families.
Support network: A network of support includes proximity to family and social interaction, as well as convenient access to health care, financial and other services. Helpful resources include the National Aging in Place Council, ElderFriends, and the Meals on Wheels Association of America.
Educational resources: The CareGiver Partnership offers a free, downloadable fall-prevention brochure in its online library of family caregiver resources. "It All Starts With a Fall — Your Guide to Help Prevent Falls" is full of tips to help caregivers and seniors identify and minimize risk factors at home and outdoors. The brochure is available as a PDF.
To read more about design principles, telecare and monitoring that can make living at home a success, see "Aging in Place: Tools to Help Your Loved One Stay at Home."
The CareGiver Partnership is a national direct-to-consumer retailer of home healthcare products for incontinence, diabetes, nutrition support and more. In its sixth year of providing products and services that help caregivers and loved ones maintain personal dignity, the company also offers an online library of more than 1,200 family caregiver resources and personal service by experts in caregiving. Call 1-800-985-1353 or visit online at http://www.caregiverpartnership.com.
###