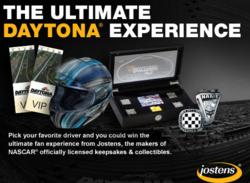 Minneapolis, MN (PRWEB) February 16, 2012
Jostens today announced the launch of The Ultimate DAYTONA® Experience Sweepstakes. The Facebook sweepstakes invites fans of Daytona International Speedway® and Jostens Racin g to pick their favorite NASCAR® driver for a chance to win 10 DAYTONA- inspired daily prizes. Participants will also be entered to win the Ultimate DAYTONA Experience Grand Prize which includes 2013 DAYTONA 500® tickets, VIP passes, an autographed driver's helmet, a piece of the historic DAYTONA Start/Finish Line pavement, an exclusive DAYTONA 500 ring crafted by Jostens, a $500 NASCAR® shopping spree and more.
The Ultimate DAYTONA Experience celebrates the 54th DAYTONA 500 and more than 50 years of unforgettable racing history at Daytona International Speedway. The sweepstakes can be entered at http://www.facebook.com/daytonainternationalspeedway or http://www.facebook.com/jostensracing and helps kickoff Speedweeks 2012. Through the sweepstakes, racing fans have the opportunity to win the following daily prizes and grand prize package:
10 Daily Winners Receive:

(1) Driver Book from the NASCAR® Fan Photo Book Series by Jostens
(1) Lustrium® fan ring or (1) Lustrium® fan pendant from the NASCAR® Fan Jewelry Collection by Jostens representing their favorite driver
(1) Genuine Track Memento from the Daytona International Speedway® Track Collection by Jostens
One Grand Prize Winner Receives:

(1) DAYTONA 500® Grand Prize Package consisting of (2) Sprint Tower tickets and (2) VIP passes to the 2013 DAYTONA 500
(1) custom driver's helmet featuring image of the 2012 DAYTONA 500® Championship Ring by Jostens and signed by the 2012 DAYTONA 500® winner
(1) DAYTONA 500® Ring with the name of the Grand Prize Winner
(1) DAYTONA® Start/Finish Line Premium Showcase by Jostens
(1) DAYTONA® Commemorative Track Collection Photo Book by Jostens
Race Day Fan Photo Books by Jostens for one (1) year
(2) tickets for All Access / VIP Tours at Daytona International Speedway
(1) $500 shopping spree at the DIS Store
(1) photo shoot with professional photography crew at key locations around Daytona International Speedway
Tax assistance amount support
To enter the sweepstakes, Facebook users are asked to click on the "DAYTONA Experience" tab in the left column. On the tab, users can select their favorite NASCAR® driver, enter their contact information and then "like" Jostens Racing to be entered into the sweepstakes. Users can then share their "Ultimate DAYTONA Experience" with others on their Facebook wall or by sending it to friends.
All Facebook fans, 13 years of age and older, can enter the Ultimate DAYTONA Experience at http://www.facebook.com/daytonainternationalspeedway or http://www.facebook.com/jostensracing starting today and ending on February 26 upon the start of the DAYTONA 500. Winners will be announced daily starting tomorrow and the grand prize winner will be selected at random on February 26 and all winners will be notified by email and/or phone.
Jostens supplies trophies and championship rings for the NASCAR-sanctioned series and is the exclusive designer/provider of NASCAR championship rings. Jostens presented Trevor Bayne with a one-of-a-kind Champions Ring following his thrilling triumph in the 2011 DAYTONA 500®. Jostens has created 29 of the 45 NFL Super Bowl rings, including the ring for the Green Bay Packers Super Bowl I victory. Jostens has also designed and produced NBA Finals, Stanley Cup and World Series championship rings, as well as rings for collegiate sports championships.
About Jostens
Minneapolis-based Jostens is a provider of products, programs and services that help people tell their stories, celebrate important traditions and recognize achievements. The company's products include school yearbooks and other memory book products, scholastic products such as class rings and graduation products, and products for athletic champions and their fans. Jostens is a subsidiary of Visant Corporation, a marketing and publishing services enterprise servicing the school affinity, direct marketing, fragrance and cosmetics sampling and educational and trade publishing segments.
###