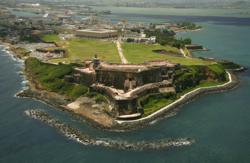 Puerto Rico - Does it Better
San Juan, Puerto Rico (PRWEB) February 17, 2012
The Puerto Rico Tourism Company (PRTC) is urging travelers to spread the word and nominate Puerto Rico in the 2012 About.com Reader's Choice Awards. Nominations are being accepted now through February 15 via the awards page.
Visitors can nominate Puerto Rico in the following categories: Favorite Caribbean Destination, Favorite Caribbean Beach and Favorite Caribbean Attraction, Activity or Tour. Below is a list of just a few suggestions which show how Puerto Rico does it better.
Favorite Caribbean Beach

Flamenco Beach on the small island of Culebra, framed by arid, sun-toasted hills, has been called one of the "Best Beaches in America" and "Best Escape Beach" by the Travel Channel.
Just a short hop from the airport, Isla Verde features a series of beaches that stretch for miles and set the backdrop for beautiful San Juan, which comes to life on weekends when beach lovers come to party, play, swim and enjoy the sun.
Luquillo Beach, named "Best Beach" by Frommer's beckons travelers with its white, powdery sand, colorful tropical fish and amazing living coral reefs.
Surfers from all over the world travel to Rincón Beach for some of the most challenging waves in the world.
The shallow sea bottom at Seven Seas Beach is especially great for families with small children. Permits are also available to campers who want to enjoy a starry tropical night.
Vieques Island, with its secluded bays, unspoiled flora and fauna, and unbridled wildlife, has been named the "Best Caribbean Island" by Travel and Leisure.
Favorite Caribbean Attraction, Activity or Tour
"El Morro," or the Castillo de San Felipe del Morro, is an Old San Juan historic treasure where soldiers fought-off attacks by both the English and the Dutch.
Nominate Puerto Rico for the About.com Awards/2
Toro Verde Nature Adventure, an outdoor park, boasts the world's second-longest zipline ride, four canopy tours and a championship mountain bike trail.
Golfers consistently praise the Robert Trent Jones, Jr.-designed Bahía Beach Resort and Golf Club at the St. Regis Resort for preserving the Island's natural integrity while offering amazing seaside views. For this reason, it was bestowed the Audubon International Gold Signature Award for environmentally-friendly policies and design.
El Yunque, the only tropical rainforest in the U.S. Park Service, offers tours, hiking and overnight camping amidst the lush flora and spectacular waterfalls.
The bioluminescent bays Mosquito Bay in Vieques and Laguna Grande at Las Croabas, Fajardo host large colonies of dinoflagellates that light up like fireflies and produce incredible glowing waters best seen on moonless nights. Only eight of these bays exist in the world (there are three in Puerto Rico).
Old San Juan, a magnificently preserved Spanish colonial city, is admired for its architecture and cobblestone streets. The main square includes museums, fortresses, churches, government buildings and historic homes.
The Ponce Museum of Art, with the best collection of Renaissance and pre-Raphaelite art in the Caribbean, captivates art lovers with more than 1,000 paintings and 400 sculptures.
The Puerto Rico Museum of Art, located in Santurce a district of San Juan Puerto Rico, features 500 years of local and Latin American art history.
Rio Camuy Cave Park, the third-largest cave system and underground river in the world, is both an educational and adventure excursion featuring 400-foot sinkholes and underground rafting.
Royal Isabela, en route to "Worldwide Top 100" status according to Fairways and Greens, is a newly-opened golf course located within the 1,800 acre Costa Isabela community on the Island's West Coast.
The Arecibo Observatory contains the world's largest single dish radio telescope – a 20-acre dish set in an ancient sinkhole.
Once finalists are chosen, final voting will run through March 15. The winners will be announced on March 21 but you don't have to wait until then to go on some Puerto Rico vacations.
# # #