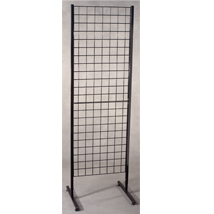 The "Grid N Go" Grid Display, designed for easy set-up and take down, was created with the busy mobile retailer in mind.
Des Plaines, IL (PRWEB) February 15, 2012
Specialty Store Services knows that participating in events such as trade shows, festivals and craft fairs can be rewarding, exciting and profitable. It can also be frustrating and time-consuming due to transporting and setting up. The "Grid N Go" Grid Display, designed for easy set-up and take down, was created with the busy mobile retailer in mind.
The "Grid N Go" Grid Display can be assembled by one person in just minutes and, due to the innovative push button lock design, does not require tools for assembly. The assembly video illustrates the ease in which the grid display is assembled. The grid display sets up in three easy steps: simply slide both legs into the bottom frame and then snap the top panel onto the standing floor panel. Push button locks securely lock the grid display together, creating a tip-resistant base and sturdy grid display. Taking down the grid display is just as quick and easy as setting it up.
The "Grid N Go" Grid Display consists of four pieces that are easy to transport and to store when not in use. The grid display is constructed of 3" grid surrounded by 1" tube frame for added stability. Choose from a variety of optional grid accessories such as hooks, faceouts and shelves to effectively display merchandise.
Specialty Store Services also provides other retail supplies and products to help make events run smoothly:
· The Portable Folding Double-Rail Garment Display is a practical display that is easy to transport and set up. The x-leg design of this garment display means that setting up takes just seconds. The chrome finish portable garment rack folds for storage and is small enough to easily carry.
· The Mighty Hauler Folding Hand Truck makes transporting supplies and displays to and from the vehicle a snap. Available with a payload capacity of 300-pounds or 600-pounds, the Mighty Hauler easily transports heavy items and then the handle folds down for easy storage.
· T-shirt Bags are always handy at any trade show or festival for packaging purchases and samples. The T-shirt bags, constructed of strong 13-micron plastic, are available in a variety of sizes and colors to suit any need.
Visit the website at whttp://www.specialtystoreservices.com for more product information or to purchase products.
About Specialty Store Services
Specialty Store Services, a second-generation family owned business, offers everything necessary to operate a thriving retail store, from logistical solutions and retail supplies to custom and stock fixtures. The large inventory of retail supplies and displays available include lighted showcases, shopping bags, pricing and tagging guns, garment racks, mannequins and security systems. Over the last 25 years this service-driven company has cultivated relationships with global partners while developing the expertise and knowledge required to provide competitive prices, outstanding customer service and quality products. Products are available for purchase online, via phone 800-999-0771, fax 888-368-8001, or at the showroom located at 454 Jarvis Avenue, Des Plaines, IL 60018.
###