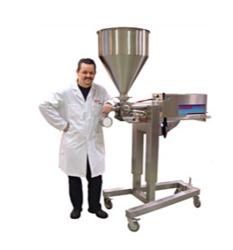 Knowledgable manufacturers will always ask the important questions to better understand your business
Vancouver, Delta (PRWEB) February 16, 2012
Unifiller understands taking production to the next level can be challenging. Increasing sales requires increasing production. Increasing production may require purchasing depositing equipment.
Last month Unifiller discussed important points to take into consideration when choosing a depositor manufacturer. This month we provide 2 more considerations for choosing the right equipment provider:
1. Does the equipment grow with production?
According to Stewart Macpherson, one of the founders of Unifiller Systems, Inc and a former baker, "When planning the purchase of a depositor, it's important to consider long-term growth strategy. Will there be a need for additional accessories or depositors in the future? Will production eventually be automated to a conveyor line? When choosing a depositor, make sure the equipment is of modular design. Unifiller Systems offers plug & play machines — any of their machines can be easily configured over an automated production line."
2. Does the manufacturer offer options to facilitate the investment?
Few companies will work with you to analyze your operations and develop an ROI (Return on Investment) plan. According to Macpherson "Knowledgable depositing manufacturers will always ask the important questions to better understand your business, including questions about production volume, batch size, filling viscosity, among others."
Unifiller offers depositors, transfer pumps, filling machines and cake decorating equipment for optimizing production capacity while lowering operational expenses. For more information or for easy leasing options, check out at http://www.unifiller.com.
###