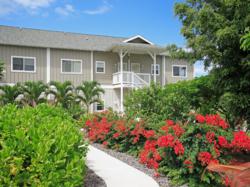 "And with Fannie Mae and FHA mortgage money available and VA approval expected shortly, financing a qualified buyer's purchase is not a problem."
Kailua-Kona, Hawaii (PRWEB) February 17, 2012
Recent brisk sales at Kona Seascape Condominiums, located in the Kona Palisades area of Kailua-Kona, may foreshadow a shift in Kona's real estate market. Between January 9 and February 10, seven of the remaining 24 two-bedroom, two-bath units in the current inventory went into escrow at prices ranging from $149,000 to $165,000.
"Kona Seascape originally came on the market in late 2007 with 108 units planned. When only 44 sold at about $290,000, due to the market turndown, the project stalled and went into foreclosure," said John Miller, R(S), lead project broker, MacArthur & Company l Sotheby's International. "The current owner purchased the project from the bank last year, restructured prices and began remarketing in late 2011. Apparently our timing is right because sales have been coming in about two per week."
Historically low mortgage rates, new construction and pent-up demand for moderately priced housing are also contributing to a strong market response.
"We're seeing about 60% Big Island buyers and the rest from Oahu, Alaska, Canada and the West Coast where our pricing looks very appealing," said Miller. "And with Fannie Mae and FHA mortgage money available and VA approval expected shortly, financing a qualified buyer's purchase is not a problem." Off-island buyers are divided between those snapping up a second home for retirement and those who see investment potential, Miller noted.
The project's final increment of 24 ocean view units is scheduled for completion later this year and will be priced between $199,000 and $219,000.
For more information about the project, go to: http://www.LiveInKonaSeascape.com or contact John Miller, R(S), (808) 315-5501.
###