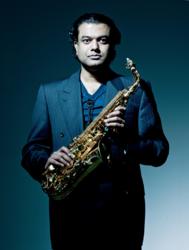 "Rudresh's immense talent and tremendous loyalty to Yamaha made him an ideal pick for our artist roster," said John Wittmann, Director, Artist Relations, Yamaha Corporation of America. "His musicality and creativity transcend culture and genres."
Indianapolis, Ind. (PRWEB) February 16, 2012
Yamaha Artist Services Indianapolis is pleased to announce the signing of innovative jazz artist Rudresh Mahanthappa. One of the most forward-thinking jazz musicians of our time, Mahanthappa favors the YAS-62 Alto Sax.
While his formal relationship with Yamaha is new, his informal relationship with the Company spans nearly three decades. As a freshman in high school, he had already demonstrated a tremendous talent with the saxophone, prompting his father to buy him his first pro-level horn as a Christmas gift. It was the Yamaha YAS-62 - the very same one he's been playing ever since.
"It was the top of the line horn of that time period," recalls Mahanthappa. "It just resonated in a way that other horns didn't and it was agile enough to let me create sounds in new and excitingly different ways." After nearly three decades together, "it still works great!"
Over the course of his 30-year relationship with the instrument, Mahanthappa explored a great deal of jazz, initially influenced by the music of jazz greats like Charlie Parker and John Coltrane. But along his journey and while studying at the Berklee College of Music, he gradually became more aware of his ancestral background and more interested in cultivating his Indian-American culture. He came to the realization that music is an expression of who he is, and subsequently wanted to create music that embraces what it means to be Indian-American.
As he pursued a jazz career stateside following his music studies, Mahanthappa traveled several times to India to "soak up" the music of his ancestors, to learn from it and to develop through it. It became a personal and artistic challenge for him find a way in which he could synthesize the two worlds, East and West, without compromising the classical beauty of either.
Mahanthappa proved that he was up to the task through his collaborations with highly notable artists, including Jack DeJohnette, Danilo Perez, Vijay Iyer and Rez Abbasi. He also leads/co-leads seven groups, all of which have received critical acclaim. His most recent release, for ACT Music + Vision, Samdhi, is the direct result of his 2007 Guggenheim Fellowship – and has been named one of the top Jazz albums of 2011 by publications in both North America and Europe. The acclaimed CD comes as the follow up to Kinsmen, featuring Carnatic saxophone legend Kadri Gopalnath, which was named one of the Top Jazz CDs of 2008 by over 20 news sources including The New York Times, NPR, BBC, Boston Globe, slate.com, JazzTimes and The Village Voice.
In 2009, Mahanthappa was voted "Rising Star-Jazz Artist" and "Rising Star-Alto Saxophone" winner in the DownBeat International Critics Poll. He was also recognized as Alto Saxophonist of the Year for 2009, 2010 and 2011 by the Jazz Journalist Association. In 2011, Mahanthappa was named Alto Saxophonist of the Year by the 59th annual DownBeat Critics Poll, joining the company of Phil Woods, Lee Konitz and Ornette Coleman.
"Rudresh's immense talent and tremendous loyalty to Yamaha made him an ideal pick for our artist roster," said John Wittmann, Director, Artist Relations, Yamaha Corporation of America. "His musicality and creativity transcend culture and genres."
But Mahanthappa feels that he is part of something that extends even beyond the impact of his music, "a hybrid identity." We're now experiencing the influence of first generation Indian-American writers, visual artists, actors, directors and musicians." Noting that "the first generation of any culture is blessed with an identity crisis," Mahanthappa is thrilled to be part of "the first impactful generation of Indian-Americans who are spreading their wings artistically and paving the way for future generations."
For more information, write Yamaha Corporation of America, P.O. Box 6600, Buena Park, CA 90622; telephone (714) 522-9011; e-mail infostation(at)yamaha(dot)com; or visit http://www.yamaha.com/press.
About Yamaha
Yamaha Corporation of America is the largest subsidiary of Yamaha Corporation, Japan and offers a full line of musical instruments and audio/visual products to the U.S. market. Products include: acoustic and digital pianos, portable keyboards, guitars, acoustic and electronic drums, band and orchestral instruments, marching percussion products, synthesizers, professional digital and analog audio products, and innovative technology products targeted.
###