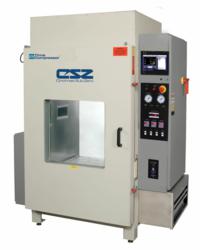 (PRWEB) February 16, 2012
Cincinnati Sub-Zero (CSZ) now provides a full line of HALT (Highly Accelerated Life Tests) and HASS (Highly Accelerated Stress Screens) test chambers that feature the EZT-570i Touch Screen Controller. This addition further broadens CSZ's extensive environmental test chamber product line and provides customers with another state-of-the-art tool to help shorten new product development time, decrease warranty costs and significantly improve product reliability.
The EZT-570i replaces the Watlow F4 Programmable Controller as standard controller on all CSZ HALT and HASS Chambers. Incorporating the CSZ EZT-570i controller makes the chamber easier to operate and monitor, adding more value and time-saving features. The EZT-570i includes data logging, remote control & monitoring, email/text alarm notification messages, data file backup system, full system security and pre-programmed test profiles for faster program implementation.
HALT & HASS chambers also include CSZ EZ-View software as a value-added feature. The software works in conjunction with the EZT-570i controller to provide remote monitoring, control, data logging and trend graphs for temperature and vibration on multiple chambers.
CSZ's HALT & HASS Time Compressor™ Chambers are used to detect flaws in design, making the product more rugged and reliable. Chambers are available in four sizes: the TC-1.5, TC-2.0, TC-2.5 and TC-4.0. Industry-leading performance levels of these chambers include temperature ramp rates up to ±100ºC/min with random vibration levels <3.0 to 90 GRMS. CSZ's chamber design combines with the vibration table design by Dr. Gregg Hobbs, inventor of HALT & HASS technology, to provide the broadest range of temperature and vibration capabilities in the industry. These capabilities are key to precipitation and detection of product defects.
About CSZ
CSZ was formed in 1940 and is the parent of three separate divisions. The medical division provides temperature management products to the healthcare industry and the testing division is an A2LA Accredited test laboratory providing contract environmental and vibration testing. CSZ's Industrial division provides the most valued and competitive environmental test chambers in the industrial market. Products include: temperature-cycling chambers, humidity chambers, accelerated stress-testing chambers, HALT HASS chambers, thermal-shock chambers, altitude chambers, AGREE vibration chambers, industrial freezers and more. Sizes range from small benchtop to full walk-in/drive-in rooms. More information on our products can be found at http://www.cszindustrial.com.
###