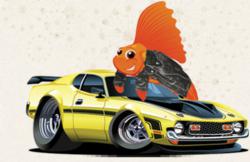 You've got your well-known headliners mixed in with some modestly-famous middle grounders, topped off with a bunch of no-names who might just blow up or become your new favorite band.
Nashville, TN (PRWEB) February 15, 2012
RoadFish.com men's lifestyle and finance magazine applauded Bonnaroo's 2012 artist lineup, released yesterday, for its diversity and variety. The 11th annual Bonnaroo Music and Art Festival, taking place in Manchester, Tennessee from June 7-10, features such headliners this year as Red Hot Chilli Peppers, Phish, Radiohead, and the reunited Beach Boys. Tickets for the event will be available for purchase starting this weekend.
Bonnaroo announced its artist lineup around 11:00am on Tuesday morning, via a Spotify announcement playlist. The playlist featured 81 tracks, each from a different artist, representing those who've been chosen for the 2012 Bonnaroo lineup. Bonnaroo's website advertises that this year's festival will feature 150 musicians and comedians on 13 stages. More artists will continue to be added to the lineup.
Rob Selkow of Tennessee's Clarksville Now included a quote from Scott Chase, a disc jockey for local Tennessee radio station Q108: "The organizers of Bonnaroo have done it again. Another incredible lineup. The 2012 Grammy's are well represented and Q108 is excited to be participating again this year." Grammy winners Bon Iver and Skrillex are featured among the musicians who will perform at this year's event.
RoadFish.com's Senior Staff writer is quoted saying, "Where else can you see Ludacris, Bon Iver, the Roots, Dispatch, and the Beach Boys performing within a couple stages of each other? I respect Bonnaroo perhaps more than any other music festival out there because they are so diverse in their lineup, every single year. You've got your well-known headliners mixed in with some modestly-famous middle grounders, topped off with a bunch of no-names who might just blow up or become your new favorite band. Not to mention musical styles for everyone- rap, hip hop, alternative, folk. Bonnaroo never fails to impress me."
Bonnaroo draws a crowd of approximately 80,000 annually who camp out in the 700-acre Great Stage Park in Manchester for the 4-day music and art festival. Manchester, TN is located about 60 miles southeast of Nashville. Past headliners have included musical greats such as Bruce Springsteen, Bob Dylan, Willie Nelson and the Grateful Dead.
Tickets for Bonnaroo begin at $235 and include admission for one person and one car for the 4-day festival. For those not sleeping in their car, camping and RV passes are also available. VIP passes are also offered as an upgrade, and include such things as exclusive view areas for certain stages, access to special shower and restroom facilities, dinners, parties, and access to the internet at their many VIP lounges located throughout the park.
RoadFish.com's Senior Staff writer suggested, "RV's are the way to go. If you can afford a VIP pass, even better! Provided you're in good financial shape--you know, no lousy credit scores or sky-high debt--it's so worth it to splurge to hang out in an RV for 4 days and be a VIP at such a cool festival."
Some lesser-known artists incorporated into this year's lineup include Young the Giant, St. Vincent, Fitz and the Tantrums, City and Colour, and Delta Spirit. Tickets for Bonnaroo will go on sale this Saturday, February 18th at 12 noon EST exclusively at Bonnaroo.com.
About Roadfish
RoadFish.com is an online men's lifestyle and finance magazine targeted toward men in their 30's and 40's that have already attained a moderate level of success in life, and are striving toward more. It goes over current events of interest to this group, such things as exciting adventures, consumer interests, hot chicks, dating tips, as well as ways to make more and save more money. It is a publication owned by Purpose Inc.
###