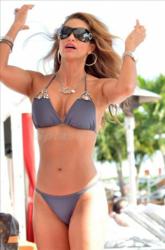 Jennifer Nicole Lee's management team has confirmed that JNL is in the works penning her fourth book entitled "Beyond the Bikini". JNL's last celebrity sighting was at a popular South Beach roof top pool, famous for its celebrities who frequent there.
Miami Beach, FL (PRWEB) February 16, 2012
Jennifer Nicole Lee has just this last minute confirmed that she is indeed penning her fourth book, entitled "Beyond The Bikini". Much speculation was stirring as to what book would follow her third book, entitled "The Fun Fit Foodie", which is a healthy cook book with a fun twist to cooking fit. Being an ambassador to not only fitness, wellness and healthy cooking, Jennifer Nicole Lee stated "I'm thrilled to be sharing some much needed insight to beauty, glamour, fashion, and my top secret skin tightening and anti-cellulite fighting treatments in my future book." Jennifer went on to say "I'm always photographed in a bikini, so I chose this name of my 4th book to tell the world that this is so much more to me than just the famous bikini photos everyone sees. I'm a wife, a mom, a fashion fanatic, fitness guru, author, but most importantly an ambassador for all things that matter to a modern day woman and mom. I love to help other women and of course moms look and feel their best."
Jennifer Nicole Lee is an innovator, having created a business around her body. Her latest huge venture is her JNL Fusion exercise DVD series which will be sold and marketed globally. She was just also named the official spokes model to LPG CelluM6 which is a non-surgical solution to treating cellulite.
Jennifer Nicole Lee is the CEO and visionary power house behind JNL Worldwide, Inc. Due to her wildly successful globally broadcasted and marketed fitness and wellness products, books, digital products, e-commerce, and merchandise, she is internationally recognized in over 110 different countries. In short, "JNL" is an extremely successful global mega-brand. Mrs. Lee is a fitness celebrity, a bestselling author, a highly sought-after spokes model, being the name/face/and body of all of her lifestyle brands, wellness products, exercise equipment, DVDs, home, bath, bedding, spa, and electronic downloads, and websites. However and most importantly she is a devoted wife and mother, representing the millions of other mom's and wives in the world with a brand they can trust.
"It's my goal and passion to increase the quality of your lifestyle." -JNL
Jennifer is one of the world's most accomplished Super Fitness Models, and is an international celebrity due to her high profile wellness merchandise and key media appearances. Jennifer's career as a top fitness expert and icon began when she lost over 80 lbs after the birth of her children. Her motivational weight loss success story caught the world's attention, after she gained columns of accolades as a professional fitness competitor, holding countless titles and crowns. She gained international notoriety, due to her incredible transformation, and was soon a frequent guest on major national talk shows, such as The Oprah Winfrey Oprah, E! Entertainment, Fox and Friends, Extra, The Secret Lives of Women, and most recent being highlighted as the top ultimate "pitchwoman" and presenter on Discovery's "Pitchmen" show, showcasing her captivating and strong TV sales power. Jennifer's energy, creativity, and entrepreneurial spirit combined with a burning desire to help others drove her to create the JNL brand. To date she has appeared on a record breaking 50 magazine covers
Some call JNL the female Donald Trump, due to her uncanny ability to brand, promote, market and sell with the best. Mrs. Lee's passion for business innovation has allowed her to blend lifestyle products and services into the digital realm. Coined as the "Steve Jobs of the fitness industry" she has harnessed the unlimited marketing and sales potential of the internet, creating a plethora of e-commerce sites, and .com's that rake in a hefty residual income via the world wide web. She is a bestselling author of three hard cover books on diet, nutrition, and exercise, and a contributor to many magazines and eBooks such as Oxygen, Fitness Rx and Bodybuilding.com. She also runs an International consultation firm, having coached thousands of women from around the world, and has hosted weekend fitness retreats drawing women from all over the globe to simply meet her and hear her speak. Jennifer is also a powerful marketing expert, appearing in numerous globally broadcast infomercials for her signature products including the Ab Circle Pro, Mini Circle, and Chest Magic, and on top shopping networks, such as QVC and The Home Shopping Network. Do date, her company and her corporate alliances have three major future lifestyle products soon to be rolling out, with key television media spots secured for advertising. Jennifer is the driving force behind the unprecedented success and future potential of JNL Worldwide.
###