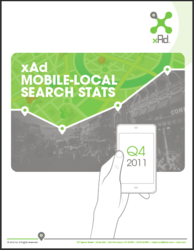 Marketers must understand that the key to maximizing exposure and performance on mobile is a comprehensive strategy that includes both locally targeted search and display.
San Francisco, CA (PRWEB) February 16, 2012
Today, xAd, one of the largest mobile-local ad networks in the U.S., made available its quarterly Mobile-Local Search Stats, a first-to-market report on mobile-local search usage and trends that is derived from a combination of xAd's network and campaign data (October 2011–December 2011) as well as the comScore MobiLens™ Audience Profile and Trend Reports.
Based on data from comScore, the growing smartphone market resulted in an influx of users accessing local information via their devices, up two percentage points from 75 percent (as reported in Q3) to 77 percent. Mirroring the trends of increased mobile devices and users, mobile-local ads on xAd's network followed suit with an uptick in activity levels. As a matter of fact, xAd delivered over a billion locally targeted ads — a combination of search and display — across its extensive network of top mobile sites and local apps, with mobile-local search traffic alone improving by 60 percent between Q3 and Q4.
Aside from sheer quantity, xAd reported high performance for the ads it served, including click-through rates of seven percent for search and .6 percent for display. Breaking it down even further, 37 percent of mobile-local searchers and five percent of mobile-display users took secondary actions, which are post-click activities such as calling businesses and accessing driving directions. To quantify those actions, xAd's search and display combined to generate 1.3 million calls to and 730,000 arrivals at local businesses, proving that mobile ads incite local actions and also yield highly qualified leads.
Dipanshu Sharma, CEO at xAd, said, "As shown in our Q4 report, marketers must understand that the key to maximizing exposure and performance on mobile is a comprehensive strategy that includes both locally targeted search and display. Due to top activities by market, peak performance by time of day and so on, each component reaches slightly different audiences and achieves unique, yet equally important, objectives. By combining them, one can actually enhance the performance of the other. For that reason, our display network was built on top of our search platform, so ads are served based on reaching defined targets as well as appearing in markets that, given past search behaviors there, are more likely to respond."
To download a copy of Mobile-Local Search Stats, visit xAd.com.
About xAd
Established in 2009, xAd is one of the largest mobile-local advertising networks in the U.S. and the only one offering both targeted search and display. Across its network, xAd aggregates and manages nearly half a billion location-specific ad requests per month, billions of business listings, and over one million national and local advertisers.
Its proprietary technology and quality-score algorithm, which takes into account nearly 30 variables such as user behavior and search location, deliver local and contextual relevance for better advertising performance: monetized calls, clicks and visits generated from ads across the mobile Web, owned and operated local apps, publisher partners, and mapping and navigation systems. That comprehensive ad inventory facilitates higher conversions for advertisers, who can reach a vast mobile audience with a single touch point, while publishers can experience high eCPM and also access a large, accurate database in one location.
Based in San Francisco, xAd has research and development facilities in Sunnyvale, California, and Gurgaon, India; sales centers in New York City and Charlotte; and several satellite offices across the U.S. For more information, visit xAd.com.
# # #