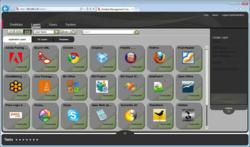 One of the things we love about Unidesk is that the process of packaging an app is as close to a physical PC as you can get, which enables us to leverage our existing skillsets."
Marlborough, Mass. (PRWEB) February 16, 2012
Award-winning healthcare provider OhioHealth of Columbus, Ohio, has selected Unidesk® as the management foundation for its 1,000-user Virtual Desktop Infrastructure (VDI). By replacing physical PCs with hosted virtual desktops that can be accessed anytime from any device, OhioHealth aims to make its core applications more accessible, even by physicians who are constantly on the move. The increased automation will improve the quality of patient care, and the movement of desktops from the edge to the data center will improve security and patient privacy. Unidesk's role is to simplify application packaging and delivery, streamline desktop provisioning and patching, minimize storage use, and provide the "follow me"' desktop experience that is essential for success.
OhioHealth joins a growing roster of healthcare organizations turning to Unidesk-managed VDI for physician-friendly application access and more efficient desktop provisioning. Other Unidesk customers that mark the layering leader's expansion into the healthcare market include Cardiovascular Associates of Virginia, Lowell General Hospital, Morehead Memorial Hospital, Mount Graham Regional Medical Center, Ohio Department of Developmental Disabilities, and U.S. Indian Health Service at Crownpoint Health Care Facility.
"The key to standard, high-quality healthcare is to get physicians to make more consistent use of computer systems, so we want our desktops to better suit their mobile work requirements," said Scott Walker, Director of Technology Services at OhioHealth. "We're known for being a progressive, wired healthcare organization, making VDI a natural way to address this. Our new virtual desktops will follow clinicians wherever they go, and enable them to immediately pick up where they left off, whether they're accessing their desktops from a device outside a patient room, their office PC, a thin client in one of our floater offices, or even when away from the office. Unidesk is the management solution that will make VDI work for all of our employees and more importantly for our IS organization."
Unidesk desktop layering software has become the easiest way to provision and manage applications and desktops in VDI, a critical requirement in healthcare where many applications are not easily virtualized, and desktops are configured with different applications and settings. Unidesk will enable OhioHealth to centrally package its large portfolio of clinical applications at a rate many IT administrators estimate is at least 10 times faster than using traditional application virtualization tools.
Commented Walker, "It's just not possible to virtualize every app. We started down that path early in our VDI project, but the ROI became a challenge when it took days to package some of the more complex, legacy applications. One of the things we love about Unidesk is that the process of packaging an app is as close to a physical PC as you can get, which enables us to leverage our existing skillsets."
Unidesk layering technology extends beyond applications to operating system (OS) gold images and user personalization as well, enabling administrators to create custom desktops that meet any end user's needs with one solution. Because the same OS layer and application layers can be shared by some or all desktops, Unidesk reduces VDI storage capacity requirements up to 70% and simplifies patch management and application updates.
"Beyond helping us realize the mobility and security benefits of VDI, Unidesk will address our other big pain point, which is how to make the provisioning and management of our apps and desktops better," said Walker. "Backing out a Windows hot fix on one physical PC is hard, never mind a thousand. But with Unidesk, we can just revert back to an earlier OS layer version at the click of a button. This alone sells the VDI model."
Serving a 40-county area, OhioHealth is a family of 21,000 associates, physicians and volunteers; 18 hospitals; 23 health and surgery centers; and numerous home-health, medical equipment, and health service providers. The nationally recognized, not-for-profit healthcare organization has been named to FORTUNE magazine's 2012 list of the nation's "100 Best Companies to Work For" for six consecutive years and by Thomson Reuters as one of the 10 best healthcare systems in America for three straight years. Member hospitals include Riverside Methodist Hospital, Grant Medical Center, Doctors Hospital-Columbus, Grady Memorial Hospital, Dublin Methodist Hospital, Doctors Hospital-Nelsonville, Hardin Memorial Hospital and Marion General Hospital.
OhioHealth is working with Unidesk partner Mainline Information Systems as it implements its virtual desktops using Unidesk and VMware View.
"Unidesk-managed virtual desktops are a great option for healthcare organizations like OhioHealth that are looking to improve the quality of patient care, comply with HIPAA and meaningful use legislation, and streamline IT operations," said Don Bulens, Unidesk CEO. "We look forward to helping OhioHealth make VDI successful so they can spend less time running around patching, updating, and troubleshooting desktops, and more time implementing technology that helps provide better healthcare to the OhioHealth community."
About Unidesk
Unidesk Corporation (http://www.unidesk.com) enables customers to centralize more desktops on data center servers and cost-justify Virtual Desktop Infrastructure (VDI). Unidesk® desktop management software for VDI is the easiest way to create, patch, personalize, and support desktops and deliver applications for organizations implementing hosted virtual desktops on VMware vSphere®. By using Unidesk's patent-pending desktop layering technology with Citrix® XenDesktop®, VMware View™ and other VDI access solutions, customers can expand VDI to more users, reduce desktop operations costs up to 30%, cut VDI storage costs up to 70%, and foster a more productive, agile workforce. Unidesk Corp. is a privately-held company with headquarters in Marlborough, Mass, USA.
Unidesk is a registered trademark of Unidesk Corporation in the United States and/or other jurisdictions. All other trademarks and registered trademarks are property of their respective owners.
###