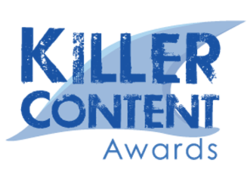 Content creation has become a key way for B2B companies to provide insight on current industry trends and concerns, while spreading awareness of their solutions and services
Hasbrouck Heights, NJ (PRWEB) February 16, 2012
As content marketing becomes a vital part of successful B2B marketing strategies, the industry's leading information source has announced that it will officially honor innovators in the content creation/demand generation sector.
DemandGen Report has announced the launch of the First Annual Killer Content Awards, recognizing organizations and individuals that have raised the bar in content marketing tactics. Winners will be honored at an awards ceremony April 24, 2012 in New York City at The Times Center, during DemandGen Report's B2B Content2Conversion Conference, an industry-first educational and networking event focused on helping B2B marketers develop, map, measure and optimize content marketing strategies.
"Content creation has become a key way for B2B companies to provide insight on current industry trends and concerns, while spreading awareness of their solutions and services," says Andrew Gaffney, Editor, DemandGen Report. "From E-books, white papers and case studies — to blogs, newsletters and webinars — many organizations have gone the extra mile to create engaging content that relates to prospects' buying needs and company pain points. Given our unique position covering the demand generation space, we see a lot of really innovative approaches and want to help educate the community by highlighting those achievements and celebrating the success of advanced content creation and execution."
B2B organizations can nominate their content by filling out the short nomination form at this link.
Winners will be chosen based on — but not limited to — the following criteria:

Social media/viral/targeted content marketing;
Mapping content to the buyer's journey;
Quantitative results (increased leads, sales, revenue, etc.);
Qualitative results (partnerships formed, increased interaction, etc.);
Video/interactive content;
Overall market positioning; and
Cross-channel marketing presence.
B2B content marketers interested in nominating collateral are encouraged to submit their content by March 23, 2012 for consideration.
Click here to access the nomination page.
About The B2B Content2Conversion Conference
Hosted by DemandGen Report, the B2B Content2Conversion Conference is an educational daylong event focused on empowering B2B marketers with strategies for mapping, developing and utilizing content marketing to nurture the buyer relationship and enhance conversions. The event will be held Tues. April 24 in New York City at The Times Center.
About DemandGen Report
DemandGen Report (DGR) is a targeted e-media publication spotlighting the strategies and solutions that help Business-2-Business (B2B) companies better align sales, marketing and disparate teams to support growth and drive revenue. DGR content and news coverage focuses on the sales and marketing automation tools that enable companies to better measure and manage multichannel demand generation efforts. DemandGen Report is the only information source directly focused on this rapidly emerging business discipline.
###