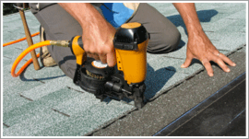 If you notice discoloration, mold, water damage or peeling paint on your ceiling, walls or attic, it means the roof is already leaking and needs to be repaired in time before the first rains
Baltimore, MD (PRWEB) February 17, 2012
As the spring approaches, Maryland's Best Roofing and Siding, Inc. encourages homeowners to get their houses ready for the rainy season starting with the roof.
Spring, just like fall, comes with rainy weather for the most part of the continental U.S. According to the National Climatic Data Center, in the period between March and May 2011 most states experienced higher than normal precipitation levels, while nine states saw their heaviest rains in 117 years.
Climate change and global warming make it difficult to predict the exact weather for the upcoming spring, but no matter what the forecasts say, being prepared is the least homeowners can do.
Experienced provider of roof installation and roof repair services in Baltimore area, Maryland's Best Roofing and Siding, Inc. recommends starting the preparation by examining the inside of the house.
"If you notice discoloration, mold, water damage or peeling paint on your ceiling, walls or attic, it means the roof is already leaking and needs to be repaired in time before the first rains," says Mike Criddle, the Vice President of Maryland's Best Roofing and Siding, Inc.
He goes on to explain that although minor leaks could be handled without hiring a roofer, in many cases detecting a leaking spot is tricky and requires professional help. "Our Baltimore roofers are versed in construction and have assisted many homeowners in getting rid of annoying leaks," added Criddle.
If the inside has passed the inspection, the next step is to examine the roof itself. Criddle reminded all DIY experts to follow safety rules or invite an experienced contractor to take a look at the roof. Things to look out for include cracks, damaged, missing or loose shingles, tree branches and foreign object on the roof surface.
Houses in the areas of heavy snowfall require special attention. "The last year's massive East coast snow storms kept our Baltimore roofers busy," commented Criddle. "In many cases, the snow damage is not evident, and only a careful inspection could indicate if a repair or a complete replacement is needed."
Checking on the gutters and snow guards is another way to get prepared for the spring. Gutters bent by snow and winds or clogged with leaves, branches or dead animals may cause many problems. "When the rainfall is not directed away from the house, it leads to foundation cracks, leaky basements, destroyed landscaping, etc.," said Criddle
Having the roof inspected and fixed before the leaks establish themselves is a proactive approach. Even if no problems are found, the homeowners still gain a piece of mind and a sense of security.
About Maryland's Best Roofing and Siding, Inc.
Headquartered in Columbia, Md., Maryland's Best Roofing and Siding, Inc. serves residential and commercial customers within Baltimore, Anne Arundel County, Howard County, Harford County, and many other areas in Maryland. The company offers a variety of roof repair and replacement services. For more information, please visit http://www.roofrepairsbaltimore.com.
###