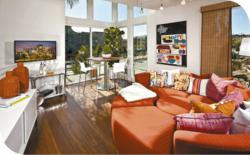 "Origen's dramatic vertical architecture is unlike anything else on the market in San Diego."
San Diego, CA (PRWEB) February 15, 2012
On Saturday, Feb. 18 from noon to 3 p.m., Shea Homes San Diego will host two food trucks, craft beer tasting and live entertainment during the opening celebration of new loft-style townhomes at Origen at Civita in Mission Valley.
While touring nine new model homes, the first 500 guests to complete a registration card are invited to enjoy complimentary lunch from two of San Diego's most popular food trucks – Miho Gastrotruck and Food Farm -- as well as craft beer tasting from Karl Strauss Brewing Co. and Green Flash Brewing Company.
The free public event will also feature live music on the fourth floor of a skyLoft model home and free test-drives in a Car2go all-electric vehicle.
"We're hosting this free public event to formally introduce these smart urban townhomes to San Diego home shoppers," said Vanessa Linn, vice president of sales and marketing for Shea Homes San Diego.
Located at 7894 Civita Blvd. just east of SR-163 in Mission Valley, Origen at Civita offers two new neighborhoods of loft-style townhomes -- Origen socialGarden and Origen skyLoft.
Designed by Woodley Architectural Group, both communities showcase contemporary urban architecture with multi-story window walls, expansive outdoor decks, stone and brick surfaces, open rail systems, open tread stairs, wrought iron railings, and angled doors, walls and floors.
Interiors feature kitchen islands, master and powder baths with vessel sinks, tankless water heaters and stainless-steel appliances. High efficiency gas heating and air conditioning systems utilize touch screen programmable thermostats.
Each of the 10 floor plans includes a two-car garage, with an upgraded brushed aluminum door inset with opaque glass.
"Origen's dramatic vertical architecture is unlike anything else on the market in San Diego," said Linn, who noted that many designer items, like Caesarstone quartz countertops, opaque glass sliding barn doors and floating European cabinets, are included in the purchase price.
Convenient in-home technology innovations include a 2gig wireless system to control security, lighting and heating from any Smartphone or tablet. Convenient entry door access is provided by Kwikset HomeSet hardware.
Three- and four-story row homes at Origen skyLoft range from 1,452 to 1,760 square feet with two to three bedrooms, 2.5 to 3.5 baths, two-car garages and multiple balconies. Homes in Phase One are now selling from the mid $400,000s.
Three- and four-story courtyard homes at Origen socialGarden are slightly larger, ranging from 1,390 to 2,110 square feet with two to three bedrooms, 2.5 to 3.5 baths, two-car garages and individual balconies. Homes in Phase One are priced from the low $400,000s.
Located near the corner of Friars Road and Mission Center Road in the heart of Mission Valley, Origen is the first new community to open at Civita, a 230-acre master planned community being developed as sustainable, transit-oriented village by Sudberry Properties. Plans for Civita (http://www.civitalife.com) call for 4,780 residential homes and apartments, approximately 480,000 square feet for a lifestyle retail center and 420,000 square feet for an office/business campus over the next 10-15 years.
The sales office and nine new model homes are open daily from 10 a.m. to 5 p.m., except Mondays, when hours are 1 p.m. to 5 pm. For more information, call 866-OWN-SHEA (866-696-7432) or visit http://www.SheaHomes.com/SanDiego.
Shea Homes is an independent member of the Shea family of companies. Shea is the oldest and largest family-owned homebuilder in the United States, with new homes in California, Arizona, Nevada, Colorado, Washington, North Carolina and Florida. For more information, visit the company's website at http://www.SheaHomes.com.
###