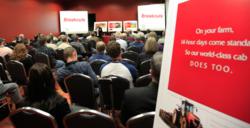 10% off Professional Convention Photography Services by Professional Images Photography ends May 31, 2012.
San Antonio, TX (PRWEB) February 16, 2012
Convention photography season is in full swing and many meetings need professional photography services that come from a specialized convention photographer. Joseph Rodriguez of Professional Images Photography announced today that he will be offering 10% off Convention, Onsite Printing Photography and Event Photography services through May 31, 2012. This applies to any meeting or convention photography service as far in advance needed. The terms to this great offer is that when you receive the quote, the 10% discount is good for only 7 business days. So take advantage of this rare offer.
Since 1987 Joseph Rodriguez owner of Professional Images Photography has worked diligently to perfect the skills of convention photography and has personally trained his staff. Professional Images Photography creates images that tell the story of a meeting, event or a product launch which is critical to the success of keeping the attendees coming back.
Onsite printing photography with social media is the perfect solution and branding your name or meeting is important to any corporate meeting or convention. The ability to place a logo on each photo that is given to the attendee helps creates leads, loyalty and opportunities.
Event photography services is another product that Professional Images Photography offers to the convention industry. This service helps cover anything from a opening reception to an offsite event. Photos taken can be uploaded to a private server so guests can view and purchase online.
Take advantage today and go to http://www.proimagesphoto.com for a no obligation quote. Professional Images Photography's commitment to bring something different to the arena of convention and corporate photography is becoming the benchmark for meeting planners in the corporate, convention and trade-show industry.
About Us:
Professional Images Photography has been providing Convention, Corporate and Trade-show Photography since 1987. Based in San Antonio, TX with offices in Washington, D.C., New York, NY, Houston, TX and coming soon, Las Vegas, NV
###