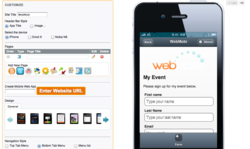 Businesses can instantly gather customer information and improve internal collaboration with the WebMobi Mobile Form App.
Sunnyvale, CA (PRWEB) February 16, 2012
WebMobi is hosting an exciting webinar to discuss its new integration with Box and the different ways SMBs can optimize the new WebMobi Mobile Form App to enhance internal collaboration and engage external audiences. Sachin Anand, founder of WebMobi, will provide a brief introduction of the platform and the form app, focusing on the different ways businesses across different verticals can collect and manage customer data by uploading CSV data files onto their Box account. The webinar will also explore how WebMobi's Mobile Form App will improve the way members collaborate internally by enabling account accessibility across all mobile devices and seamlessly updating information in real-time.
Anyone interested in joining this webinar can register at: https://www3.gotomeeting.com/register/456958398
Featured Speaker: Sachin Anand, Founder of WebMobi
Date: February 24, 2012
Time: 1:00PM-2:00PM PST
Tune in to learn more about how WebMobi Platform:

Offers user scalability for customized mobile apps
Supports across different mobile platforms, tablet devices, browsers using a common web platform
Simplifies the mobile app creation process and provides a unique user experience
Provides complementary functions and features for companies across various industry verticals
"As more users are turning to their smart devices for information, it becomes increasingly important that businesses not only establish a strong mobile presence to engage their mobile audiences but also be able to easily access data across and using different mobile platforms," says Sachin Anand. "The WebMobi Mobile Form App will ultimately simplify the way businesses collect customer information and enhance overall accessibility to information internally."
About WebMobi
Founded in 2011, WebMobi is a cloud-based SaaS platform that aims to provide its users with a competitive advantage when enhancing mobile presence. With its scalable cross-platform application development and user-friendly interface, WebMobi provides a fully integrated single solution that allows both consumers and enterprises to easily create and deploy customized mobile applications to engage their audiences. For more information, visit http://www.webmobi.com.
###