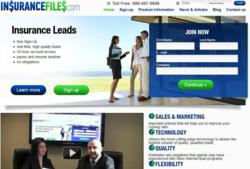 We're looking forward to meeting many of our current working partners and to developing new ones. Sergey Margaryan
Los Angeles, CA (PRWEB) February 17, 2012
Online insurance leads generator, InsuranceFiles.com is attending LeadsCon in LasVegas. LeadsCon is a conference of the online leads generation industry that will be held at the Mirage Hotel. Over 900 firms have already confirmed that they are attending the event, the largest of its kind in the U.S.
InsuranceFiles' goal is to spread the word about improvements to its entire system, including the addition of even more filters that allow insurance agents the ability to more specifically target both personal and commercial markets.
Insurance Agents and potential partners who want to meet with a representative of InsuranceFiles should e-mail sergey.m(at)insurancefiles(dot)com or Adrian.t(at)insurancefiles(dot)com to schedule an appointment.
InsuranceFiles.com is an online insurance lead generation firm who specializes in exclusive and semi-exclusive auto, life and commercial insurance leads. An easy to navigate website and expertly trained marketing associates brand InsuranceFiles.com as a trend setter. Their dedication to re-inventing the insurance leads business is paying dividends in the form of new business for insurance agents.
# # #