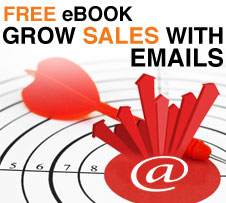 Great quick guide to email marketing," Michael Halper, CEO of Launch Pad Solutions.
Houston, TX (PRWEB) February 16, 2012
SalesNexus today announced the release of "Grow Sales with Emails - 7 Easy Ways Sales Teams Win with Email Marketing", a free ebook written to help sales people and sales teams leverage the power of email automation easily and affordably.
A quick read at 12 pages, "Grow Sales with Emails" is intended for small businesses, sales managers and sales people who don't have access to experienced marketing professionals to craft and manage strategic email campaigns for them.
"Leveraging Email Marketing technology to nurture leads and customers and identify qualified prospects is not a simple endeavor, especially for sales people," said Craig Klein, CEO of SalesNexus.com. "Sales pros typically struggle to write emails that get results and therefore never get started. However, sales teams are sending out hundreds and thousands of emails every day to their prospects and clients. We wrote 'Grow Sales with Emails' to make taking the first few steps to warming up lists into qualified prospects easy for sales people," said Klein.
"Grow Sales with Emails" details 7 simple and affordable steps any sales team can take immediately to begin nurturing relationships with leads and customers via email and automating all of the email correspondence with customers to improve sales results.
"This e-book covers all the basics of really connecting with customers on a message that causes a response, which is the basic principle of all direct marketing," says Mike Moran, author of "Do It Wrong Quickly"
Jason Evans, CEO of Power Sales University, says "This e-book shows you how to automate the process of methodically making a psychological impact on your customer with your emails."
The e-book is available free on the SalesNexus website here - http://www.salesnexus.com/email-marketing-for-sales-ebook/
SalesNexus plans to announce a related "Getting Starting with Email Marketing for Sales Teams" workshop to be scheduled in March of 2012.
About SalesNexus
SalesNexus, located in Houston, Texas, is a privately held software development company dedicated to customer relationship management (CRM), sales force automation and marketing automation for small- to mid- size businesses. The SalesNexus online CRM enables sales teams to generate more leads, close more sales and keep customers longer. SalesNexus' unique combination of online CRM and Email Marketing technology is matched by the industry's most proactive and responsive support services. To learn more about SalesNexus, visit http://www.salesnexus.com.
###