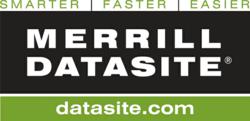 Join the FREE Webinar - Mid-market M&A - Managing risks and opportunities - by Merrill DataSite, 23 February 2012, 2PM GMT
London, UK (PRWEB) February 20, 2012
Click here to register for the webcast
As a subdued M&A market features fewer large-cap transactions, this webcast will analyse the ways that dealmakers can manage risks and opportunities in mid-market M&A. Streamed live from the London Stock Exchange, the knowledgeable panel will share their views on the outlook for mid-market dealmaking.
Speakers include:
Robert Knorr, Partner, Mid Europa Partners
Tim Sheddick, Partner, Baker & McKenzie
Charlie Johnstone, Director, ECI Partners
Jonathan Boyers, Head of Corporate Finance in the North, KPMG
Elizabeth Castro, Editor EMEA – Remark, The Mergermarket Group (Moderator)
The broadcast will touch upon a range of topics including:
Recent trends, key deal drivers and sectors of deal concentration in mid-market M&A
Strategic v Financial investors in mid-market deals
The challenges for mid-market companies in current economic conditions
Working with mid-market companies during the due diligence process
All registrants will have the opportunity to pose questions to the panellists during the broadcast, and will be able to view the webcast again on-demand after the live broadcast, so register now.
About Merrill DataSite
Merrill DataSite is a secure virtual data room (VDR) solution that optimises the due diligence process by providing a highly efficient and secure method for sharing key business information between multiple parties. Merrill DataSite provides unlimited access for users worldwide, as well as real-time activity reports, site-wide search at the document level, enhanced communications through the Q&A feature and superior project management service - all of which help reduce transaction time and expense. Merrill DataSite's multilingual support staff is available from anywhere in the world, 24/7, and can have your VDR up and running with thousands of pages loaded within 24 hours or less.
With its deep roots in transaction and compliance services, Merrill Corporation has a cultural, organization-wide discipline in the management and processing of confidential content. Merrill DataSite is the first VDR provider to understand customer and industry needs by earning an ISO/IEC 27001:2005 certificate of registration – the highest standard for information security – and is currently the world's only VDR certified for operations in the United States, Europe and Asia.
For more information, please contact Merrill DataSite: Tel: 1-866-399-3770; Email: info(at)datasite(dot)com; Web: http://www.datasite.com
###