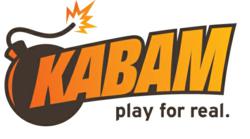 REDWOOD CITY , Calif. (PRWEB) February 16, 2012
Kabam™, the leading developer of hardcore social games, today announced it has partnered with Kongregate, the leading destination for free browser-based games with nearly 16 million monthly unique visitors, to bring multiple Kabam massively multiplayer titles to Kongregate's popular portal. Dragons of Atlantis™, Kabam's hit dragon-based strategy game, is already live on Kongregate with additional title launches planned. The agreement provides Kabam with a new channel for reaching core gamers while giving the Kongregate community access to a selection of top Kabam social games.
Dragons of Atlantis transports players to the lost world of Atlantis to raise an army of dragons and build a powerful empire using the mysterious powers of the Ancient Ones. Like all Kabam games, Dragons of Atlantis combines elements of MMO-style play with the connectivity and interaction of social gameplay.
"Kongregate is a great addition to our rapidly expanding mix of distribution partners," said Chris Carvalho, Chief Operating Officer of Kabam. "Kabam games provide the immersive and feature-rich experience Kongregate's audience of dedicated gamers seek, and this partnership allows us to expand on our multi-platform distribution approach and reach millions of additional core gamers. Additionally Kongregate's parent company GameStop provides us the potential to explore other unique avenues of promotion and distribution for our games."
Kabam will be using a new, internally created technology framework called Pyramid™ to facilitate multi-platform integration and distribution for its games with partners like Kongregate. Additional Kabam titles slated for launch on Kongregate in coming weeks include The Godfather™: Five Families™ and Thirst of Night™. The Godfather: Five Families is an online multiplayer game is set in the Prohibition Era preceding the films, with players and crime families battling for money, power, and respect. Thirst of Night, a new Kabam title, is a massively multiplayer online strategy game that transports players to a dark world where vampires are building a new empire in the ashes of human civilization.
"Our community of nearly 16 million hardcore gamers are looking forward to experiencing Kabam's style of games on their home turf," said Emily Greer, Co-Founder and COO of Kongregate. "Kongregate provides a first-class platform for titles like Dragons of Atlantis that provide a deeper, immersive experience with the convenience of browser-based gameplay." Emily also noted that GameStop, Kongregate's parent company, gives Kabam access to potentially millions of more gamers both online and off.
Terms of the distribution agreement were not disclosed. For more information on Kabam, visit our official site at http://www.kabam.com, and also our Facebook page at http://www.facebook.com/kabam.
About Kabam
Kabam is the leader in the free-to-play, hardcore social games arena that is transforming the traditional gaming industry. The company designs games for core gamers, combining the deep, immersive gameplay found in MMO strategy and RPG games with the connectivity and interaction of social networks. Recent Kabam titles include The Godfather™: Five Families™, Dragons of Atlantis™, Edgeworld™, and the award-winning Kingdoms of Camelot®. Kabam games are currently available for play on Google+ and Facebook, as well as an ever-growing number of global social networks and online channels. Founded in 2006 and headquartered in Redwood City, CA, Kabam has built a team of game industry professionals committed to creating deeply engaging games that delight our players. More information about Kabam can be found at http://www.kabam.com.
About Kongregate
Kongregate is a leading browser-based game site with nearly 16 million monthly unique visitors who spend more than 28 million hours playing per month. As part of the GameStop Corporation network, the site features a unique community and social platform including achievements, profiles, chat, messaging, forums, and levels, which unifies over 53,700 games into a cohesive and addicting experience. Kongregate shares revenue from advertising and virtual goods directly with more than 10,000 developers who have uploaded games to the site. Advertisers include brands like Electronic Arts, Sony Pictures, Sprint, Frito Lay, Axe, Xbox 360, Nokia, and Toyota. While all games on Kongregate are free, the site also features a virtual currency called Kreds, which can be used to unlock additional features in select games. Based in San Francisco, CA, the company was founded in 2006 by brother-and-sister team Jim Greer, a game industry veteran, and Emily Greer, an interactive marketing executive.
All trademarks or registered trademarks are property of their respective owners.
CONTACT:
Anne Marie Stein | Jeane Wong
ONE PR Studio (for Kabam)
510-893-3271
annemarie(at)oneprstudio(dot)com | jeane(at)oneprstudio(dot)com
Wendy Dominquez
GameStop Corp.
817-722-7747
WendyDominguez(at)gamestop(dot)com
###