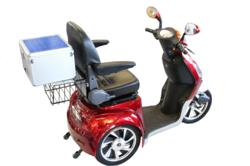 The freedom to go further using solar power for electric scooters
Toronto, Ontario (PRWEB) February 17, 2012
Mr. Aldo Baiocchi Daymak Inc.'s Vice President is pleased to announce the launch of Daymak's new electric scooters: the Voyager Solar and the Boomerbuggy Richskaw Solar. Both products feature an integrated solar system that continuously charges the vehicles while riding or even when parked.
"Most riders, on average, ride approximately 10 km a day," States Mr. Baiocchi. "Our innovation allows the rider up to an extra 12km a day based on 8 hours of light even under clouds. This gives the majority of riders no need to charge their bikes ever".
The Voyager Solar and Boomerbuggy Rickshaw Solar are fully loaded scooters featuring Daymak Drive ™ technology, MP3 /FM speakers, USB connection, 500W geared motors, adjustable throttle, alarm and full lighting system.
"I believe the future is electric and our products are effective today, combining both energy sources, solar and electric, making these products super green and super attractive. One of the obstacles for users was to find charging stations at work or when they leave the house. Our solutions give the riders peace of mind and the freedom to go further without the worry of running out of battery or not finding an outlet. " Mr. Baiocchi continues. "We feel that showcasing them at the Dealer Expo will give us many oppurtunities and we look forward to meeting all the dealers".
About Daymak Inc. Founded in 2001, Daymak Inc. is the #1 seller of electric bikes and scooters in Ontario, Canada, with a distribution of 70 dealers across Canada and 6 international dealers. It is the proud designer, developer and manufacturer of the world's 1st wireless electric bicycle, the Shadow Ebike and the Daymak Drive controller. Daymak Inc. is driven by passion to create and develop the best consumer-oriented and environmentally friendly light electric vehicles (LEVs).
About the Dealer Expo is the world's largest business-to-business trade event for the power sports industry. For the past 43 years, Dealer Expo has provided manufacturers and distributors of power sport products, accessories and services the opportunity to meet directly with buyers, owners and managers of power sport retail stores and distributors in a business-first buying and selling environment. With over 20,000 attendees, 1,000 brands, and 20 countries represented, Dealer Expo has continued to expand into international markets.
###