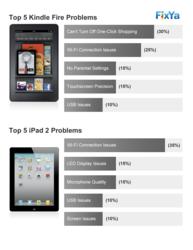 San Mateo, Calif. (PRWEB) February 16, 2012
It is well documented how the iPad 2 and Kindle Fire stack up when it comes to features and pricing, but today FixYa, the leading product Q&A destination on the Internet, sheds light on the top consumer issues on each device. The findings, which are included in the FixYa Tablet Index, are based on tens of thousands of issues for each product.
Top Kindle Fire Issues:

One-Click Shopping Security: Amazon has made online shopping a breeze, with the Kindle Fire storing your credit card information as well as instituting 'one-click' shopping. Although convenient, consumers complain that the lack of password authorization represents a huge security issue, with the possibility of accidental purchases (such as children or touchscreen foul-ups) and greater losses in the case of theft. This is an especially important issue due to the social nature of tablets, which are often being used as family devices. Worse, there is no direct fix for the issue (although Amazon has signaled that they are working on one), aside from password protecting your Wi-Fi connection and device.
Wi-Fi Connection Issues: The Kindle Fire's Wi-Fi has been plagued with significant issues from the start, with numerous FixYa users complaining of faulty connections, getting kicked off in the middle of browsing, and being unable to connect to the Internet at all. Considering the fact that Wi-Fi is the only way users can access the Internet on the Kindle, this problem is a significant one for anyone who wants to spend a lot of time online. Updating Kindle software to the latest version has a 30 percent chance of solving a Wi-Fi related issue.
Lack of Parental Settings: A common issue owners have with their Kindle Fire is the lack of parental controls for children safety. Once again, this poses a larger issue due to the social and family nature of tablet devices: children can easily access content that parents don't want them to see. Setting a Wi-Fi password only solves this problem for web browsing.
Although more reliable overall, the iPad 2 also has some serious issues:
Wi-Fi Connection Issues: iPad 2 owners have reported fairly widespread issues with connecting to (and staying connected to) Wi-Fi. Although this is a widespread issue that affects those without a 3G-enabled iPad or those close to their monthly data cap, there are a number of successful fixes. Turning Wi-Fi on and off, renewing the DHCP lease, and resetting the Wi-Fi network settings usually solves the issue.
Backlight Bleeding: 15 percent of iPad 2 issues registered are related to display problems, mostly the prominence of splotchy light patches around the edges of the device. This is an eyesore that becomes more noticeable in the dark. Adjusting device screen brightness can alleviate this somewhat, although a full fix is more difficult because it is a hardware issue.
Below is how the top 5 troubleshooting issues broke down for each device:
Top 5 Kindle Fire Problems
1. Can't Turn Off One-Click Shopping – 30%
2. Wi-Fi Connection Issues – 25%
3. No Parental Settings – 15%
4. Touchscreen Precision – 15%
5. USB Issues – 10%
Top 5 iPad 2 Problems
1. Wi-Fi Connection Issues – 35%
2. LED Display Issues – 15%
3. Microphone Quality – 15%
4. USB Issues – 10%
5. Screen Issues – 10%
"Product call centers are the closest thing to consumer hell, making the web the new owner's manual, says FixYa CEO Yaniv Bensadon. "We see this first hand and have experienced an explosion in consumer issues with tablets, mainly the variety of devices running Android software. Despite Apple's god-like status with consumers, it is no stranger to consumer issues, as noted in today's report."
FixYa brings consumers the most comprehensive solution database in the world. The FixYa Tablet Index was generated from over 20 million users, 650,000 experts and 10 million product problems and solutions. FixYa's unique access to crowd-sourced product Q&A from consumers grants the company transparent data that no other service can claim to provide. FixYa's troubleshooting data comes from real-life consumer experience with products and product problems.
To learn more about FixYa Tablet Index, visit http://blog.fixya.com/pr/feb/
To learn more about FixYa, visit http://www.FixYa.com
About FixYa
In 2005, entrepreneur Yaniv Bensadon set out to build a community resource capable of providing relevant and up-to-date troubleshooting information, gathering consumer-generated practical product tips and sharing them in one user-friendly site. Today, with over 20 million visitors and two million products in its database, FixYa continues to empower individuals to repair and improve upon their already-purchased possessions. FixYa is a place where individuals can share real world experience and connect to provide each other practical advice. From fixing cars, to cameras, to iPhones, FixYans are part of a DIY revolution that helps empower techies, tinkerers and hobbyists across the globe.
FixYa is a venture-funded Web 2.0 company located in the heart of Silicon Valley with offices in San Mateo, California. For more information, visit http://www.fixya.com, or follow FixYa on Twitter at twitter.com/fixya.
###