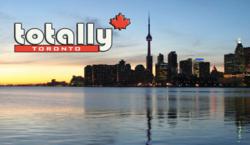 Why Travel and Leisure Magazine recently rated Toronto among its "Hottest Travel Destinations of 2012."
(PRWEB) February 28, 2012
The City of Toronto breaks down into dozens of different areas, each with their on unique set of charms and attractions.
The team at Totally Toronto has compiled an extensive Guide to Toronto Neighbourhoods.
Each Toronto neighbourhood has it's own guide highlighting what to know and what to see in each location.
Find out some of the reasons why Travel and Leisure Magazine recently rated Toronto among its "Hottest Travel Destinations of 2012."
With spring right around the corner, Toronto is once again poised to pull in record setting crowds, and is also attracting plenty of attention from the travel world as one of its "Hottest Travel Destinations of 2012."
Totally Toronto has it covered, with its extensive collection of profiles of over 40 different districts in the city.
In their most recent issue, Travel and Leisure Magazine listed Toronto as one of its "Hottest Travel Destinations of 2012," calling the city a place with "remarkably hip restaurant, fashion, and nightlife scenes." It was even promoted as a top destination on The Today Show on NBC.
It should come as no surprise then that Tourism Toronto recently released a report indicating that the city enjoyed a record setting year in 2011, including over 10 million overnight visitors. With dozens of trade shows, festivals and other events scheduled for 2012, this number is expected to increase.
While Toronto has attractions for visitors in all four seasons, in the spring and summer the city's parks and streets come alive with events and activities.
That makes now a great time to learn something new about Toronto's neighbourhoods.
Part of the reason so many big names in travel recommend Toronto as a top pick is that it offers so many different potential experiences.
But with so many neighbourhoods, and so many different potential experiences, sometimes it's hard to choose one. Travel websites and experts all have their own versions of the best areas in the city - but why not decide from the whole list?
Reading Totally Toronto's Neighbourhoods section provides the information on everything from big attractions to hidden gems, including:
» Accommodation
» Shopping
» Restaurants
» Nightlife
» Attractions
» Real Estate
Find out where to go skating in the winter on the waterfront, wander a festival in the summer eating Italian street food, or have an exciting night out listening to great bands.
Totally Toronto is a valuable resource for visitor information on neighbourhoods in the city, so find out why so many people are talking about Toronto.
"Totally Toronto is positioned to make Toronto; Totally yours"
Totally Canada Inc., operating under the name 'Totally Toronto' is based in Toronto, Canada with a remote office in Barbados. The company was incorporated under the Business Corporations Act (Ontario) on September 23rd, 2010.
Totally Toronto aims to help local businesses shine alongside Toronto's corporate titans.
By guiding visitors to your business on Totally Toronto, it will gain increased exposure online, before a visitor even steps outside their home, hotel or airplane.
Promoting all there is to know about Toronto - that's Totally Toronto.
# # #