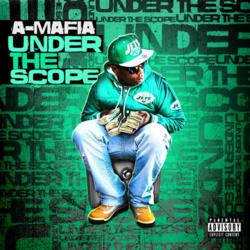 Miami, FL (PRWEB) February 16, 2012
Hip hop artist A-Mafia recently released his mixtape "Under The Scope." Presented by Coast 2 Coast Mixtapes and Deep In The Game Entertainment, it is now available for free download. "Under The Scope" features A-Mafia on tracks with guest artist appearances from Hell Rell, Gotti Gator, DJ O.P., Herb McGruff, Murdah Baby, Baby Thad, Henny The Don, Just Rich Gates, Young A$e, Big Face Head, Byrdgang, and 2 Chainz.
A-Mafia, or AB, if you really know him, traces his earliest rhymes back to when he was 15. AB has lived a harsh reality all throughout his life. He came from a broken family were he had to fend for himself. His living situation wasn't stable and he was in
and out of group homes as young child. AB was even homeless at one point in the dead of winter, having to sleep outside. He eventually found himself Deep In The Game of the streets, making life-changing decisions to try and live better. AB did stints in the infamous adolescent Bronx jail Spofford, on Rikers, and in New York's notorious Great Meadow or Comstock prison. streets. Somehow AB survived through all of
this, and A-Mafia was born. His music is a portrait of the reality he has had to live. "I'm going how I'm going because I plan not to go back to jail, I've already spent about ten years of my life there," he says. "My other motivation for staying focused is for my family. I feel like I'm the only one that can really change my family situation. It's all for my kids and my family."
A-Mafia is respected in most hip-hop circles and has done records with some of Harlem's most notable artists including Cam, Jim Jones, Hell Rell, JR Writer, and .40 Cal. He formed Deep In The Game Entertainment with his partner Born and started on a new campaign to let the world know his name. A Mafia stated ultimately he wants the D.I.T.G movement to control the raw new music that comes from the streets, especially in New York. He has released six mixtapes to-date, and has appeared on five more albums.
"Under The Scope" is available for free streaming and download at http://coast2coastmixtapes.com/mixtapes/mixtapedetail.aspx/a-mafia-under-the-scope
###