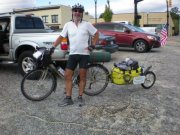 "What struck me was the kindness, spirit and determination of the average American. On my upcoming journey I will tell their story."
Vancouver, WA (PRWEB) February 16, 2012
"On my first ride across the country, I saw an America I was unacquainted with," said Jones. "An America whose heartland had been decimated by the economic downturn and policies enacted over the last three decades. As a result, many people were struggling to keep their businesses afloat and in fact many towns were virtually shuttered. What struck me was the kindness, spirit and determination of the average American. On my upcoming journey I will tell their story."
On this journey, Jones will travel alone by bicycle, literally clockwise, along the borders of the United States departing on Saturday, May 19, 2012. His itinerary begins with a departure from Washington State, across the U.S. toward the east coast, continuing south and ultimately returning to the west through California and then north until he returns to Vancouver. He will document his experience using a variety of tools, including the following:
--A continuously updated website: http://www.rollingacrossamerica.org, Facebook http://www.facebook.com/rollingacrossamerica and Twitter feed http://www.twitter.com/rollingacross
--SpotGPS: http://www.rollingacrossamerica.org/around-the-edges-2012/track-me/ will track his movements in real-time so that people can follow his progress and meet up with him to provide encouragement and support.
--Periodic video clips on his YouTube channel http://www.youtube.com/RollingAcrossAmerica/
"I do not intend to profit significantly from this endeavor," said Jones. "Sponsors who decide to provide cash can be assured that their money will go to supporting the journey or will be channeled to charity. Although the primary charity I intend to support is Share, a non‐profit organization that serves the homeless and hungry in Clark County Wash, some money may be channeled to local charities that serve a similar cause as I become aware of them on the trip. "
On the website, there is a direct link to Share's donation page. Links to other charitable organizations that serve a similar cause will appear on his site as Jones makes his way around the country.
Jones expects to depart Vancouver, Wash. on Saturday, morning May 19, 2012 at 10 a.m., rain or shine. He anticipates the entire journey to take approximately 12 months and will return to Vancouver with unforgettable memories and a story to tell with a documentary film.
About Share
Share was founded in 1979 with the mission to lead the hungry and homeless to self-sufficiency by providing food, shelter, housing, education and compassion through the strength of our community. For more information visit the website at http://www.sharevancouver.org.
About David Jones
A resident of Vancouver, Wash., David, 56, is an entrepreneur, father and Navy veteran. For more information about his cycling adventures, please visit the website.
###