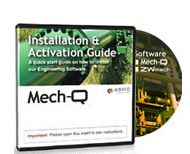 incredible savings for LT users who need engineering software and at the same time want to run other add-ons in AutoCAD LT version for free
Bend, OR (PRWEB) February 16, 2012
CADavenue and ASVIC is giving away CADSTA® Tools - a utility that allows LISP applications to run within AutoCAD LT® to those purchasing Mech-Q for AutoCAD® LT.
"One of biggest AutoCAD® LT limitations is its inability to run third party AutoCAD® applications," says Owner Victor Abela. "LISP is the customization language for AutoCAD® and is what many 3rd party applications are written in," explains Victor.
The current promotion allows new Mech-Q users to receive CADSTA® tools at no additional cost to them. According to CADavenue, this is a $499 value.
Victor describes their CADSTA® promotion as "a way to pass incredible savings for LT Users who need engineering tools and at the same time want to run other add-ons in their AutoCAD® LT version for free".
Mech-Q is a low-cost third party engineering add-on that runs directly inside AutoCAD®, AutoCAD® LT and IntelliCAD. It includes includes Mechanical, Piping, Ducting & Structural modules.
CADSTA® Tools is a LISP extender or engine that directly loads directly in LT. It allows custom AutoCAD® add-ons like Mech-Q to run transparently just like in the full version AutoCAD®.
CADSTA® Tools Includes:
-Various productivity enhancement tools
-LISP Engine to run routines directly inside AutoCAD® LT
-Support for AutoLISP, FAS, and VLX applications
-Advanced customization of the menus and keys for user specific needs
-Support for a wide range of popular LISP applications
-No annual re-authorization and a permanent lifetime code
CADSTA® also activates what is known as the AutoCAD® Appload command, which allow users to browse and manually load routines as needed. In addition a Startup Suite can be used to auto-load favorite add-ons every time LT starts.
Victor adds, "The CADSTA® promotional bundle is a part of our continued effort to make our tools affordable for all companies looking for exceptional value in CAD Software".
About CADavenue
CADavenue is the U.S. office for ASVIC, Australia. It specializes in Engineering Applications, CAD Software and Add-Ons for AutoCAD®. Mechanical, Piping, Ducting & Structural modules are offered there. Standalone CAD offerings are also available including their newest CAD Engineering Software offering called AViCAD.
Contact them at 888-271-7121
or info(at)cadavenue.com
###