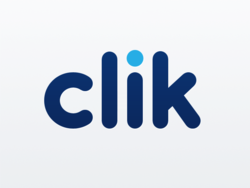 Waterloo, ON (PRWEB) February 16, 2012
The Clik Smart TV platform officially launches today, allowing content providers and app developers to build apps that communicate with any screen with a browser. The platform was developed by the same minds that created Kik Messenger, one of the fastest growing mobile instant messenger applications, now used by millions of consumers worldwide.
Unlike other Device-to-TV solutions that require consumers to own multiple devices made by the same manufacturer, Clik enables developers to build apps that connect iOS or Android smartphones to any screen with a browser. This means, no special hardware or wires are required. And Clik will work on any mobile operator's network, or even over WiFi. Clik provides a super-fast connection between the devices and the platform does all the heavy lifting, so developers can build their app using Web developer standards, avoiding the time consuming and expensive process of developing for mobile platforms.
The Clik platform is designed to power third-party apps, which showcase TV shows, movies, games, pictures and almost anything else imaginable. When new apps are built using the Clik technology, users can scan a code on any browser to take control of the screen, allowing them to lean back and discover and control content on their phones while enjoying that content on a TV or monitor. Best of all, Clik lets friends join in on the fun with multiplayer mode. Anyone with Clik can scan into the same screen, so people can share control of the screen, and share experiences in a social setting.
"The ability for highly personal mobile devices, like phones, to easily take control of computers, TVs, cars, and other expensive and complex devices is one of the most important megatrends in technology right now," said Fred Wilson, managing partner at Union Square Ventures. "Clik's approach to this problem is novel and slick, bordering on magic. You have to see it to believe it. It's a game changer."
"The beauty of Clik is both its simplicity and ability to bring almost any content to any screen, anytime," said Ted Livingston, CEO of Clik. "For consumers, there is no new box to buy, and no extra software to install. With apps built inside Clik, consumers can instantly take control of their friends' Smart TV and start watching videos, playing games, or listening to their favorite music—you've really got to experience it to believe it."
Clik also is releasing the first app powered by this new technology, a YouTube app now available for download on iOS and Android as part of the Clik download available here. This first app lets users discover and control YouTube content on their phone and wirelessly stream videos to any screen with a browser. The YouTube app also allows users to start, stop, search, browse or create favorites, instantly.
How to use the Clik YouTube App:
1. Download the app from iTunes or the Android marketplace here.
2. Go to http://www.ClikThis.com on any browser-enabled screen
3. Open the app and scan the QR code for an instant connection.
The phone is now your remote control! Start enjoying YouTube videos by selecting them on your phone and watching them on your Smart TV. You can also invite friends to join in by having them scan the same screen, to seamlessly control the video playlist together.
Develop for Clik!
Developers interested in the Clik Smart TV platform should sign up for the private beta here: partner(at)clikthis(dot)com
Try the Clik YouTube App for yourself:
Download the Clik app on your iPhone or Android device at discover.clikthis.com
About Clik
Clik Interactive provides the easiest way to discover and control content on any screen, using a smartphone. Developed by the creators of Kik Messenger, the viral messaging app that boasts millions of users, Clik will redefine the way people interact with screens and the way developers and content providers deliver user experiences. The company, which was founded in 2009, is based in Waterloo, Ontario, Canada.
# # #