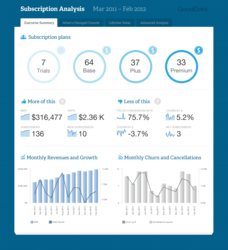 San Francisco, CA (PRWEB) February 16, 2012
GoodData, a disruptive, cloud-based enterprise Business Intelligence (BI) platform, today announced the first BI application specifically designed to expose key financial, customer and product data needed to monitor and predict success in businesses dependent on subscriptions.
GoodData Subscription Analytics enables these businesses to quickly uncover critical metrics around customer acquisition cost (CAC), churn, retention, and customer lifetime value (CLV).The nature of monthly, quarterly or annual billing models necessitates specific business metrics to identify at-risk subscribers and paint an accurate picture of customer lifetime value.
"Subscription Analytics hits the core of what we do: give businesses easy access to absolutely essential information that was previously off limits," said Roman Stanek, founder and CEO of GoodData. "We worked alongside our subscription-based customers to standardize an application that answers their central business questions. Business executives don't need an army of spreadsheet jockeys to understand the fundamental drivers of their business; they need an out-of-the-box solution."
Subscription Analytics features pre-built reports and dashboards to track vital metrics and Key Performance Indicators (KPIs). Business users throughout the organization can visualize spending, usage behaviors, acquisition, retention, and cohort analytics and collaborate on the GoodData platform.
GoodData enables Zinch, the social network that connects students with opportunities, to understand its expanding subscriber base and manage explosive growth. "Thanks to GoodData, we have meaningful insights at our fingertips," explained Cache Merrill, CTO at Zinch. "GoodData transforms the mass of data into actionable analytics that drive our business."
A new addition to the portfolio of applications build on the GoodData platform, Subscription Analytics is sold out-of-the-box and can also be extended to include unique requirements and additional data sources. The application approach allows customers to realize time to value immediately by delivering a standardized framework of best practice Key Performance Indicators (KPIs) for subscription-based businesses.
Companies that would like more information about GoodData Subscription Analytics can request a consultation at cohort@gooddata.com.
About GoodData
GoodData is a disruptive, cloud-based enterprise platform for business intelligence. The GoodData technology is intuitive, secure and fast. It helps convert big data into profitable insights and strategies for business executives. GoodData is trusted by companies like Enterasys, Capgemini, and Software AG, and embedded into offerings from cloud innovators like Zendesk, Get Satisfaction and Pardot. Headquartered in San Francisco, GoodData is privately held and backed by leading venture capital firms, including Andreessen Horowitz, General Catalyst Partners, Fidelity Growth Partners, and Windcrest Partners.
###